The Way of the Wise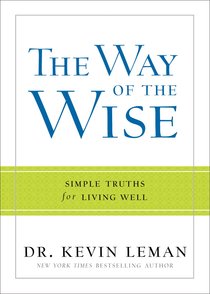 Do not forget my teaching, but keep my commands in your heart, for they will prolong your life many years and bring you prosperity. Let love and faithfulness never leave you." These and other seemingly simple lessons were hard-won for a hardheaded young man who was more "wise guy" than "wise" early in life.

Now, internationally known psychologist and New York Times bestselling author Dr. Kevin Leman shares the biblical wisdom that has shaped him into the successful, joy-filled person he is today. With his trademark wit and humorous stories from his personal life, Dr. Leman shows readers how to jump-start or revitalize their lives both spiritually and practically with words from one of the wisest men of all time. (Hint: It's not him.) Dr. Leman offers hope, courage, and a fresh perspective on living a great life, all in a compact, readable package. This lively and inspiring book makes the perfect gift for professionals, graduates, and anyone who could benefit from simple truths for living well.

- Publisher
You May Also Be Interested In
About "The Way of the Wise"
Do not forget my teaching, but keep my commands in your heart, for they will prolong your life many years and bring you prosperity. Let love and faithfulness never leave you." These and other seemingly simple lessons were hard-won for a hardheaded young man who was more "wise guy" than "wise" early in life.

Now, internationally known psychologist and New York Times bestselling author Dr. Kevin Leman shares the biblical wisdom that has shaped him into the successful, joy-filled person he is today. With his trademark wit and humorous stories from his personal life, Dr. Leman shows readers how to jump-start or revitalize their lives both spiritually and practically with words from one of the wisest men of all time. (Hint: It's not him.) Dr. Leman offers hope, courage, and a fresh perspective on living a great life, all in a compact, readable package. This lively and inspiring book makes the perfect gift for professionals, graduates, and anyone who could benefit from simple truths for living well.
- Publisher


Meet the Author
Kevin Leman
Dr. Kevin Leman, an internationally known psychologist, radio and television personality, and speaker, has taught and entertained audiences worldwide with his wit and commonsense psychology.

The best-selling and award-winning author has made house calls for hundreds of radio and television programs, including The View with Barbara Walters, The Today Show, Oprah, CBS's The Early Show, Live with Regis Philbin, CNN's American Morning, and LIFE Today with James Robison, and he has served as a contributing family psychologist to Good Morning America.

He is the founder and president of Couples of Promise, an organization designed and committed to helping couples remain happily married. Dr. Leman is also a charter faculty member of iQuestions.com.

He has written over 50 best-selling books about marriage and family issues, including The Birth Order Book and Sheet Music: Uncovering the Secrets of Sexual Intimacy in Marriage.

Dr. Leman was born in 1943 in Tucson, Arizona, and earned his degree in psychology from the University of Arizona. He and his wife, Sande, make their home in Tucson. They have been married since 1967, and have five adult children.