The Will of God as a Way of Life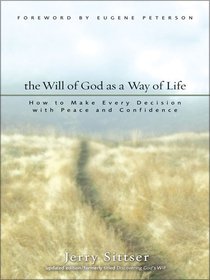 Practical help for understanding and following God's will for your life"God has a plan for our lives," but what does that mean in practical terms? How do we know God's will for important life decisions, like who to marry, what job to take, what church to join? How can we be free if God has a perfect plan for us? Does suffering mean we are off track? How exactly does God speak?Author Jerry Sittser explores these questions and offers a biblically based approach that is truly liberating. No matter what decisions we've already made, he points out that it is still possible to live out God's perfect will-even if we think we've married the wrong person, chosen the wrong career, or landed in some kind of serious trouble.This new edition includes study questions designed to help individuals or groups who are faced with decisions-large or small.

- Publisher
You May Also Be Interested In
About "The Will of God as a Way of Life"
Practical help for understanding and following God's will for your life"God has a plan for our lives," but what does that mean in practical terms? How do we know God's will for important life decisions, like who to marry, what job to take, what church to join? How can we be free if God has a perfect plan for us? Does suffering mean we are off track? How exactly does God speak?Author Jerry Sittser explores these questions and offers a biblically based approach that is truly liberating. No matter what decisions we've already made, he points out that it is still possible to live out God's perfect will-even if we think we've married the wrong person, chosen the wrong career, or landed in some kind of serious trouble.This new edition includes study questions designed to help individuals or groups who are faced with decisions-large or small.
- Publisher


Meet the Author
Gerald L Sittser
Gerald L. Sittser (Ph.D., University of Chicago) is professor of theology at Whitworth University in Spokane, Washington. He is the author of The Adventure, A Cautious Patriotism, A Grace Disguised, The Will of God as a Way of Life and When God Doesn't Answer Your Prayer.
Sittser has won numerous awards and honors including a Gold Medallion Award from the Evangelical Christian Publishers Association for his book When God Doesn't Answer Your Prayer. His two most recent books Water from a Deep Well which surveys the Spirituality from the early martyrs to modern missionaries, and Love One Another which examines and applies the 'one another' exhortations of the New Testament to believers so we will aspire to Becoming the Church Jesus Longs For.
Koorong - Editorial Review.