The Wings to Fly (#05 in Silver Locket Sisterhood Series)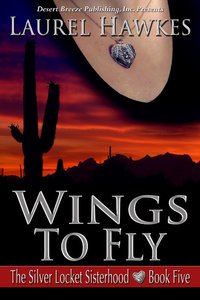 Love Samantha Merritt wants a forever relationship, but painful lessons from the past interfere with her ability to trust anyone, including God. Despite her friend's reassurances 'this guy is different,' she refuses the offer of another blind date, until she meets him. Now it's too late... Trust Jordan Tyler trusts God to protect him but also believes in doing his part by avoiding people who guarantee extra drama. Accepting a blind date with an abuse survivor is not his idea of a leap of faith, more like a fall into stupidity, until he meets her. Choosing friendship didn't mean love would follow... Forever God looks on the heart and sees what mortal eyes do not. Only an All-knowing God would pair a couple who worked so hard to avoid each other. The only thing standing in their way of their own Happily Ever After is them...

- Publisher
You May Also Be Interested In
About "The Wings to Fly (#05 in Silver Locket Sisterhood Series)"
Love Samantha Merritt wants a forever relationship, but painful lessons from the past interfere with her ability to trust anyone, including God. Despite her friend's reassurances 'this guy is different,' she refuses the offer of another blind date, until she meets him. Now it's too late... Trust Jordan Tyler trusts God to protect him but also believes in doing his part by avoiding people who guarantee extra drama. Accepting a blind date with an abuse survivor is not his idea of a leap of faith, more like a fall into stupidity, until he meets her. Choosing friendship didn't mean love would follow... Forever God looks on the heart and sees what mortal eyes do not. Only an All-knowing God would pair a couple who worked so hard to avoid each other. The only thing standing in their way of their own Happily Ever After is them...
- Publisher


Meet the Author
Laurel Hawkes
Laurel Hawkes (a pen name) has spent most of her life in the Valley of the Sun, calling Yellowstone, Thailand, and England home for a brief time. Work encompassed a variety of trades including housekeeper, cashier, switchboard operator, reservation agent, teacher's aide, sign language interpreter, medical transcriptionist, and, now, writer. 
 
 When she was told she could never succeed as a writer, she believed it, and boxed away the dream, but God laid writing on her heart. He offered her numerous breadcrumbs to help her find her way. Asking her not to write would now be tantamount to asking her not to breathe. 
 
 Laurel enjoys making fresh homemade bread, which helps her work through plot difficulties, and blackberry jam, using the berries from the bushes in her yard. Additional pleasures include books and music, dogs and horses. Walks on the beach don't happen nearly enough. Shy at first, she's quick to become a chatterbox. She loves sharing the adventure of life with friends.
Other Titles In The "Silver Locket Sisterhood Series" Series