The Wisdom of Alfred Edersheim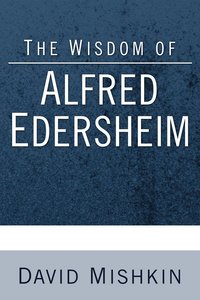 Alfred Edersheim (1825-1889) was born and reared in a Jewish home in Vienna. He was given a New Testament while studying medicine at the University of Pest (Budapest) and soon afterwards came to believe in Jesus as his Messiah. He held several teaching positions in the United Kingdom before settling at the University of Oxford. From 1882 until his death, he was Grinfeld Lecturer on the Septuagint. He is still considered a leading authority on Jewish life and customs in the time of Jesus. He wrote many books on a variety of topics, most famously The Life and Times of Jesus the Messiah. The Wisdom of Alfred Edersheim includes hundreds of quotations from his various works, many of which are rare and out of print. Edersheim is remembered and loved for his devotional commentary as much as for his scholarship.

- Publisher
You May Also Be Interested In
About "The Wisdom of Alfred Edersheim"
Alfred Edersheim (1825-1889) was born and reared in a Jewish home in Vienna. He was given a New Testament while studying medicine at the University of Pest (Budapest) and soon afterwards came to believe in Jesus as his Messiah. He held several teaching positions in the United Kingdom before settling at the University of Oxford. From 1882 until his death, he was Grinfeld Lecturer on the Septuagint. He is still considered a leading authority on Jewish life and customs in the time of Jesus. He wrote many books on a variety of topics, most famously The Life and Times of Jesus the Messiah. The Wisdom of Alfred Edersheim includes hundreds of quotations from his various works, many of which are rare and out of print. Edersheim is remembered and loved for his devotional commentary as much as for his scholarship.
- Publisher


Meet the Author
David Mishkin
David Mishkin teaches at Israel College of the Bible in Jerusalem. His previous book is Rabbi and Redeemer: Discovering Yeshua in the Gospel of John.