The Wisdom of God (New Tozer Collection Series)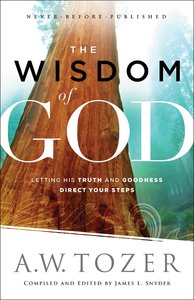 A.W. Tozer on Living in God's Wisdom

We were created by God and for God, and the only way to find true joy, peace, and contentment is by understanding and embracing his wisdom. Wisdom is not some highbrow philosophical concept, but rather a highly practical tool for living the best possible life.

The Wisdom of God captures Tozer's teaching on this topic as a way to understand the well-lived Christian life. God's wisdom is a part of his character, inseparable from his love and grace, and knowing this wisdom means drawing closer to him. It will change your decisions, attitudes, and relationships, setting you on the path to becoming all God wants you to be.

- Publisher
You May Also Be Interested In
About "The Wisdom of God (New Tozer Collection Series)"
A.W. Tozer on Living in God's Wisdom

We were created by God and for God, and the only way to find true joy, peace, and contentment is by understanding and embracing his wisdom. Wisdom is not some highbrow philosophical concept, but rather a highly practical tool for living the best possible life.

The Wisdom of God captures Tozer's teaching on this topic as a way to understand the well-lived Christian life. God's wisdom is a part of his character, inseparable from his love and grace, and knowing this wisdom means drawing closer to him. It will change your decisions, attitudes, and relationships, setting you on the path to becoming all God wants you to be.
- Publisher


Meet the Author
A W Tozer
A. W. Tozer died in 1963, but his life and spiritual legacy continue to draw many into a deeper knowledge of God. During his lifetime, Tozer pastored several Christian and Missionary Alliance churches. Missions and the deeper life in Christ were his primary focus. He also served as editor of the Alliance Life. Tozer authored more than 40 books, (at least two of which are considered classics: The Pursuit of God and Knowledge of the Holy), a tremendous accomplishment for a man who never received a formal theological education. The presence of God was his classroom, his notebooks and tools consisted of prayer, God's Word, and the writings of early Christians and theologians, the Puritans, and great men of faith. - Publisher.
Other Titles In The "New Tozer Collection Series" Series View All