The Words and Works of Jesus Christ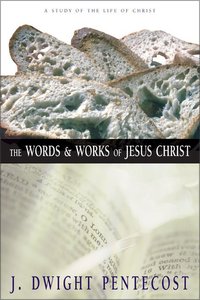 The life of Jesus Christ takes on fresh clarity and meaning in this masterful work by Dwight Pentecost. The words, the miracles, and overarching message of the Messiah come alive in flowing and detailed chronology, set against the cultural, political, and religious setting of his day. You'll gain new understanding of why Jesus came, how he operated, and what he accomplished. Above all, you'll acquire a deeper appreciation for the love that guided his path, beginning in a manger in Bethlehem, leading through three and a half years of ministry that ended abruptly at the cross on Golgotha, and blazing forth in eternal triumph at the resurrection. Drawing liberally on the works of others who have written about Christ, such as Alfred Edersheim, J. W. Shepherd, W. Graham Scroggie, and Frederick Faraar, Dr. Pentecost reveals in his own writing a familiarity with the subject that comes from years of teaching. Yet he writes, not as one who knows all there is to know about Christ, but with the

- Publisher Traces the events of Jesus' life from his birth to his ascension. Frequently cites the best of other works written about Christ. Contains an expanded outline of the life of Christ, historical and geographical background material, indexes, and studies.

- Publisher
You May Also Be Interested In
About "The Words and Works of Jesus Christ"
The life of Jesus Christ takes on fresh clarity and meaning in this masterful work by Dwight Pentecost. The words, the miracles, and overarching message of the Messiah come alive in flowing and detailed chronology, set against the cultural, political, and religious setting of his day. You'll gain new understanding of why Jesus came, how he operated, and what he accomplished. Above all, you'll acquire a deeper appreciation for the love that guided his path, beginning in a manger in Bethlehem, leading through three and a half years of ministry that ended abruptly at the cross on Golgotha, and blazing forth in eternal triumph at the resurrection. Drawing liberally on the works of others who have written about Christ, such as Alfred Edersheim, J. W. Shepherd, W. Graham Scroggie, and Frederick Faraar, Dr. Pentecost reveals in his own writing a familiarity with the subject that comes from years of teaching. Yet he writes, not as one who knows all there is to know about Christ, but with the
- Publisher

Traces the events of Jesus' life from his birth to his ascension. Frequently cites the best of other works written about Christ. Contains an expanded outline of the life of Christ, historical and geographical background material, indexes, and studies.
- Publisher


Meet the Author
J Dwight Pentecost
J. Dwight Pentecost is distinguished professor of Bible exposition, emeritus, at Dallas Theological Seminary where he has served since 1955. He holds a B.A. from Hampden-Sydney College, and both a Th.M. and Th.D. from Dallas Theological Seminary. His many works include The Joy of Living, Design for Discipleship, The Divine Comforter, and Thy Kingdom Come.