The World is Not Ours to Save: Finding the Freedom to Do Good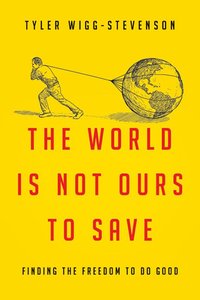 Recent years have seen a remarkable awakening of awareness of global issues. Rising generations are passionately committed to making a difference. Today's young adults want to save the world. But it's not quite that simple. Liking Facebook pages only goes so far. As today's faith-based activists move from awareness to mobilization, we bump up against the complexities of intractable global problems. Despite our good intentions, there are limits to what any of us can accomplish. So disillusionment and compassion fatigue threaten us on one hand, while empty slacktivism derails us on the other. Tyler Wigg-Stevenson gives a perceptive analysis and critique of what we can and cannot do to change the world. As activist movements mature, we need a fundamental reorientation to the fact that we are not the center of the story. Only God can save the world, and yet we can still seek to be faithful in our pursuit of justice and peace. Wigg-Stevenson's own pilgrimage shows what a more sustainable kingdom-oriented activism might look like as we move from causes to calling, deepening our vocation as disciples and ministers of Christ. The world is not ours to save. And that's okay. Discover why.

- Publisher
You May Also Be Interested In
About "The World is Not Ours to Save: Finding the Freedom to Do Good"
Recent years have seen a remarkable awakening of awareness of global issues. Rising generations are passionately committed to making a difference. Today's young adults want to save the world. But it's not quite that simple. Liking Facebook pages only goes so far. As today's faith-based activists move from awareness to mobilization, we bump up against the complexities of intractable global problems. Despite our good intentions, there are limits to what any of us can accomplish. So disillusionment and compassion fatigue threaten us on one hand, while empty slacktivism derails us on the other. Tyler Wigg-Stevenson gives a perceptive analysis and critique of what we can and cannot do to change the world. As activist movements mature, we need a fundamental reorientation to the fact that we are not the center of the story. Only God can save the world, and yet we can still seek to be faithful in our pursuit of justice and peace. Wigg-Stevenson's own pilgrimage shows what a more sustainable kingdom-oriented activism might look like as we move from causes to calling, deepening our vocation as disciples and ministers of Christ. The world is not ours to save. And that's okay. Discover why.
- Publisher


Meet the Author
Tyler Wigg-Stevenson
Tyler Wigg-Stevenson is the founder and director of the Two Futures Project, a movement of Christians for nuclear threat reduction and the global abolition of nuclear weapons. He also serves as chairman of the Global Task Force on Nuclear Weapons for the World Evangelical Alliance and as policy director for Faithful Security, a multi-faith coalition working for nuclear security.Tyler began his involvement in nuclear policy over a decade ago under the late U.S. Senator Alan Cranston at the Global Security Institute, on whose board he still sits, and as study assistant to the Rev. Dr. John Stott. He is the author ofBrand Jesus: Christianity in a Consumerist Age, a contributing editor atSojournersmagazine, politics columnist atRelevant magazine, and a regular writer and speaker on matters of faith and public life. His work has been profiled by a variety of secular and Christian media, including theWashington Post, Christianity Today, CQ, WORLD, ABC World News, and PBSsReligion & Ethics Newsweekly. Tyler is an ordained Baptist minister with degrees from Swarthmore College and Yale Divinity School.
Table Of Contents
Foreword

part I:the Limits Of Activism

1. The World Is Not Ours To Save

2. Don't Be A Hero

3. Broken Beyond Our Repair

4. Fear God

5. Take These Snakes

part Ii: A Deeper Calling

6. The Peaceable Kingdom

7. Peace With God: Worship, Discipleship, Evangelism

8. Peace Among The Nations: Justice, Industry, Nonaggression

9. Peace In Community: Dignity, Prosperity, Fearlessness

10. Living Out Our Callings

Acknowledgments

Notes