The Wounded Yankee (House Of Winslow Series)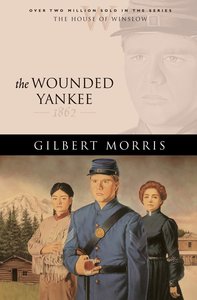 Zack Winslow, The Wounded Yankee, had served the Union Army for exactly one year and been wounded twice, surviving the battles of Bull Run and Shiloh. But when he is sent home, Zack discovers some devastating news about his fiancée and his livelihood. Having seen the worst of war and tasted the disappointments of love and friendship gone sour, Zack decides he must get away from it all. Striking out for the wilds of Montana, Zack resolves to live as a hermit in Alder Gulch. On one hundred acres in the shadows of the Rockies, he can build a cabin and raise sheep the promise of a better life, free from the entanglements of other people. But Zack can't seem to keep them away from his door. Yet how can he take on these unwelcome people? But if he doesn't provide for them, who will? Book 10 in The House of Winslow.

- Publisher
You May Also Be Interested In
About "The Wounded Yankee (House Of Winslow Series)"
Zack Winslow, The Wounded Yankee, had served the Union Army for exactly one year and been wounded twice, surviving the battles of Bull Run and Shiloh. But when he is sent home, Zack discovers some devastating news about his fiancée and his livelihood. Having seen the worst of war and tasted the disappointments of love and friendship gone sour, Zack decides he must get away from it all. Striking out for the wilds of Montana, Zack resolves to live as a hermit in Alder Gulch. On one hundred acres in the shadows of the Rockies, he can build a cabin and raise sheep the promise of a better life, free from the entanglements of other people. But Zack can't seem to keep them away from his door. Yet how can he take on these unwelcome people? But if he doesn't provide for them, who will? Book 10 in The House of Winslow.
- Publisher


Meet the Author
Gilbert Morris
Gilbert Morris is one of todays best-known Christian novelists, specialising in historical fiction. His best-selling works include Edge of Honor (winner of a Christy Award in 2001), Jacobs Way, the House of Winslow series, the Appomattox series, and The Wakefield Saga. He lives in Gulf Shores, Alabama, with his wife, Johnnie. - Publisher.
Other Titles In The "House Of Winslow" Series View All