The Youth Worker's Guide to Helping Teenagers in Crisis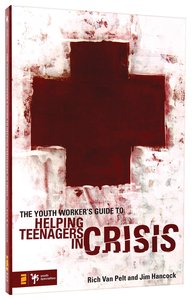 Anyone who stays in youth ministry for a while will encounter significant crises. Family break-ups, substance abuse, sexual assault, eating disorders, cutting, suicide, gun violence. But without proper and immediate care, crises like these can cause years of emotional pain and spiritual scarring in students. Rich Van Pelt and Jim Hancock want to help you prevent that from happening. Through their experience and expertise, you'll learn how to:
- Respond quickly and effectively to crisis
- Balance legal, ethical, and spiritual outcomes
- Forge preventive partnerships with parents, schools, and students
- Bring healing when damage is done

When crises happen - and they will, ready or not - there are practical steps you can take. Van Pelt and Hancock provide field-tested counsel and specific, biblical advice for each stage of crisis. Keep this book on hand as your go-to resource when you need it most. Because when it comes to crisis, it's not a matter of if, but when.



- Publisher
You May Also Be Interested In
About "The Youth Worker's Guide to Helping Teenagers in Crisis"
Anyone who stays in youth ministry for a while will encounter significant crises. Family break-ups, substance abuse, sexual assault, eating disorders, cutting, suicide, gun violence. But without proper and immediate care, crises like these can cause years of emotional pain and spiritual scarring in students. Rich Van Pelt and Jim Hancock want to help you prevent that from happening. Through their experience and expertise, you'll learn how to:
- Respond quickly and effectively to crisis
- Balance legal, ethical, and spiritual outcomes
- Forge preventive partnerships with parents, schools, and students
- Bring healing when damage is done

When crises happen - and they will, ready or not - there are practical steps you can take. Van Pelt and Hancock provide field-tested counsel and specific, biblical advice for each stage of crisis. Keep this book on hand as your go-to resource when you need it most. Because when it comes to crisis, it's not a matter of if, but when.


- Publisher


Meet the Authors
Pelt Rich Van
Rich Van Pelt trains thousands of educators, counselors and youth workers each year in adolescent crisis intervention and teen suicide prevention and response. His expertise springs from more than three decades of youth and family work, including ten years with incarcerated youth in the Colorado Department of Corrections. He is president of Alongside Consulting, a Denver-based leadership development organization, and is national director of ministry relationships for Compassion International. Often called on to offer counsel and direction after major teen incidents, like the Columbine shooting
Jim Hancock
Jim Hancock invested two decades as a church-based youth worker. Now he spends his days in Leucadia, California, writing and creating digital movies and learning designs for youth workers, parents, and adolescents. He's the author of Raising Adults, Ten Things We Should Never Say to Kids, The Justice Mission, as well as many other resources, and co-author of The Youth Worker's Guide to Helping Teens in Crisis, The Parents Guide to Helping Teenagers in Crisis and Posers, Fakers & Wannabes.