Theology of James, Peter, and Jude, a (Biblical Theology Of The New Testament Series)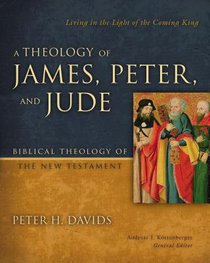 :In this volume, Peter Davids offers a comprehensive study of the General or Catholic Epistles of James, 1-2 Peter, and Jude, which are often insufficiently covered in more general New Testament introductions, theologies, and surveys. Before discussing a theology of each of the four letters, Davids first deals with their common aspects---their shared background in the Greco-Roman world and a similar Christology, view of the source of sin, and eschatology---thus justifying their being treated together. In the chapters that follow, Davids embarks upon a theological reading of each letter informed by its social-rhetorical understanding---what they meant in the context of their original cultural settings---including: a survey of recent scholarship, a discussion of relevant introductory issues, a thematic commentary, a treatment of important theological themes, and a discussion of the place of the letter in the biblical canon and its contribution to New Testament theology. The Biblical Theology of the New Testament (BTNT) series provides upper college and seminary-level textbooks for students of New Testament theology, interpretation, and exegesis. Pastors and discerning theology readers alike will also benefit from this series. Written at the highest level of academic excellence by recognized experts in the field, the BTNT series not only offers a comprehensive exploration of the theology of every book of the New Testament, including introductory issues and major themes, but also shows how each book relates to the broad picture of New Testament theology.

- Publisher
You May Also Be Interested In
About "Theology of James, Peter, and Jude, a (Biblical Theology Of The New Testament Series)"
:In this volume, Peter Davids offers a comprehensive study of the General or Catholic Epistles of James, 1-2 Peter, and Jude, which are often insufficiently covered in more general New Testament introductions, theologies, and surveys. Before discussing a theology of each of the four letters, Davids first deals with their common aspects---their shared background in the Greco-Roman world and a similar Christology, view of the source of sin, and eschatology---thus justifying their being treated together. In the chapters that follow, Davids embarks upon a theological reading of each letter informed by its social-rhetorical understanding---what they meant in the context of their original cultural settings---including: a survey of recent scholarship, a discussion of relevant introductory issues, a thematic commentary, a treatment of important theological themes, and a discussion of the place of the letter in the biblical canon and its contribution to New Testament theology. The Biblical Theology of the New Testament (BTNT) series provides upper college and seminary-level textbooks for students of New Testament theology, interpretation, and exegesis. Pastors and discerning theology readers alike will also benefit from this series. Written at the highest level of academic excellence by recognized experts in the field, the BTNT series not only offers a comprehensive exploration of the theology of every book of the New Testament, including introductory issues and major themes, but also shows how each book relates to the broad picture of New Testament theology.
- Publisher


Meet the Authors
Peter Davids
Peter H. Davids (PhD, University of Manchester) is Professor of Biblical Theology, St. Stephens University, New Brunswick, Canada. He is the author of commentaries on James (NIBC, NIGTC) and 1 Peter (NICNT) and co-editor of the Dictionary of the Later New Testament and Its Developments.
Andreas J Kostenberger
Andreas J. Kostenberger (Drs., Vienna University of Economics, Ph.D., Trinity Evangelical Divinity School) is Professor of New Testament/Director of Ph.D. Studies at South East Baptist Theological Seminary, Wake Forest. He is also the editor of the Journal of the Evangelical Theological Society, and the author of numerous books including The Gospel of John (Baker Exegetical Commentary of the New Testament) Encountering the Gospel of John, The Book Study Concordance of the Greek New Testament, and The Missions of Jesus and the Disciples according to the Fourth Gospel.
He also translated Adolf Schlatter's two-volume New Testament Theology. His current publications include The Pastoral Epistles (Revised Expositor's Bible Commentary); A Theology of John's Gospel and Letters: The Word, the Christ, the Son of Godand The Cradle, The Cross and The Crown.
Koorong-Editorial Review..
Other Titles In The "Biblical Theology Of The New Testament Series" Series View All