Theology of the Old Testament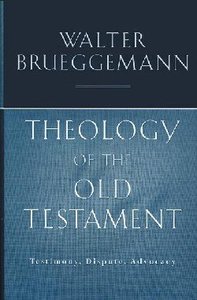 In this powerful book, Walter Brueggemann moves the discussion of Old Testament theology beyond the dominant models of Walter Eichrodt in the 1930s and Gerhard von Rad in the 1950s.Brueggemann focuses on the metaphor and imagery of the courtroom trial in order to regard the theological substance of the Old Testament as a series of claims asserted for Yahweh, the God of Israel. This provides a context that attends to pluralism in every dimension of the interpretive process and suggests links to the plurality of voices of our time.

- Publisher 777 Pages

- Publisher The magnum opus of one of America's premier Old Testament scholars. Drawing on the metaphors and imagery of a courtroom trial, Brueggemann asks readers to weigh the testimony and countertestimony of Yahweh, the central character, while considering commentators' views on historicity, authenticity, reliability, and methodology. An intriguing platform for dialogue between modern pluralism and biblical faith.

- Publisher
You May Also Be Interested In
About "Theology of the Old Testament"
In this powerful book, Walter Brueggemann moves the discussion of Old Testament theology beyond the dominant models of Walter Eichrodt in the 1930s and Gerhard von Rad in the 1950s.Brueggemann focuses on the metaphor and imagery of the courtroom trial in order to regard the theological substance of the Old Testament as a series of claims asserted for Yahweh, the God of Israel. This provides a context that attends to pluralism in every dimension of the interpretive process and suggests links to the plurality of voices of our time.
- Publisher

777 Pages
- Publisher

The magnum opus of one of America's premier Old Testament scholars. Drawing on the metaphors and imagery of a courtroom trial, Brueggemann asks readers to weigh the testimony and countertestimony of Yahweh, the central character, while considering commentators' views on historicity, authenticity, reliability, and methodology. An intriguing platform for dialogue between modern pluralism and biblical faith.
- Publisher


Meet the Author
Walter Brueggemann
Dr. Walter Brueggemann (Th.D., Union Theological Seminary, New York:; Ph.D., St. Louis University) is Professor Emeritus of Old Testament Theology and Interpretation at Columbia Theological Seminary, Decatur, GA .
His award-winning Theology of the Old Testament (Fortress Press, 1997) quickly became a foundational work in the field. The Association of Theological Booksellers presented Walter Brueggemann and Fortress Press with a Theologos Award for Best General Interest Book at a dinner in Brueggemann's honor, for the award-winning book, Deep Memory, Exuberant Hope: Contested Truth in a Post-Christian World.
His recent publications include Mandate to Difference: An Invitation to the Contemporary Church, The Theology of the Book of Jeremiah, Like Fire in the Bones: Listening for the Prophetic Word in Jeremiah, and The Word That Redescribes the World: The Bible and Discipleship.