They Shall Expel Demons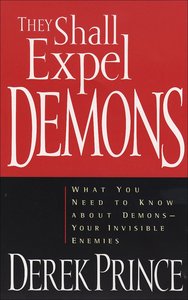 WHAT ARE DEMONS?

HOW DO DEMONS GAIN ENTRY INTO PEOPLE'S LIVES?

DO CHRISTIANS EVER NEED DELIVERANCE FROM DEMONS?

In this readable, biblically based book, Derek Prince answers these and many other vital questions. If you are struggling with problems that never seem to go away, has it ever occurred to you that demons may be at work? Or perhaps you want to help others with such problems.

Derek Prince points out that "Jesus never sent anyone out to preach the Gospel without specifically instructing and equipping them to take action against demons in the same way that He Himself did."

If this is not true today, Prince asks, "Who has change? Jesus? The demons? The Church?"

- Publisher
You May Also Be Interested In
About "They Shall Expel Demons"
WHAT ARE DEMONS?

HOW DO DEMONS GAIN ENTRY INTO PEOPLE'S LIVES?

DO CHRISTIANS EVER NEED DELIVERANCE FROM DEMONS?

In this readable, biblically based book, Derek Prince answers these and many other vital questions. If you are struggling with problems that never seem to go away, has it ever occurred to you that demons may be at work? Or perhaps you want to help others with such problems.

Derek Prince points out that "Jesus never sent anyone out to preach the Gospel without specifically instructing and equipping them to take action against demons in the same way that He Himself did."

If this is not true today, Prince asks, "Who has change? Jesus? The demons? The Church?"
- Publisher


Meet the Author
Derek Prince
Derek Prince was born in India of British parents in 1915. He was educated at Eton College and Cambridge University, England, where he held a Fellowship in Ancient and Modern Philosophy at King's College. While serving with the British army in World War II, he began to study the Bible and experienced a life-changing encounter with Jesus Christ. He then devoted his life to studying and teaching the Bible.


Derek Prince taught and ministered on six continents for over seven decades, imparting God's revealed truth, praying for the sick and afflicted, and sharing his prophetic insights into world events in the light of Scripture. His daily radio broadcast Derek Prince Legacy Radio (formerly Keys to Successful Living), reaches more than half the world. He was the author of over 80 books, over 600 audio teachings, and over 100 video teachings, many of which have been translated and published in other languages. Derek Prince died in 2003 in Jerusalem.