They Shall See His Face: The Story of Amy Oxley Wilkinson and Her Visionary Blind School in China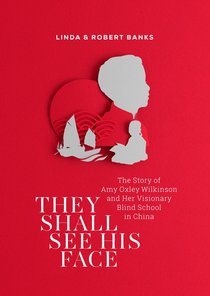 Amy Oxley Wilkinson was arguably the most widely known female Australian missionary in China and the West in the early 20th century. She was the great granddaughter of colonial chaplain Samuel Marsden and granddaughter of celebrated explorer John Oxley. After rescuing an abandoned blind boy, she founded an innovative Blind Boys School in Fuzhou which is now a major institution in Fujian Province. Her husband Dr George Wilkinson set up the city's first hospital and introduced a program to address the pervasive curse of opium addiction.Amy's holistic and vocational approach to disability education brought her national and later international recognition. In 1920, the president of the new Chinese republic awarded her the Order of the Golden Grain, the highest honour a foreigner could receive. Two years later, Amy and the School's brass band were presented to Queen Mary in England.Amy's story highlights the significance of Australia's contribution to the development of early modern China and is a challenge to anyone committed to making their life count for others.

- Publisher
You May Also Be Interested In
About "They Shall See His Face: The Story of Amy Oxley Wilkinson and Her Visionary Blind School in China"
Amy Oxley Wilkinson was arguably the most widely known female Australian missionary in China and the West in the early 20th century. She was the great granddaughter of colonial chaplain Samuel Marsden and granddaughter of celebrated explorer John Oxley. After rescuing an abandoned blind boy, she founded an innovative Blind Boys School in Fuzhou which is now a major institution in Fujian Province. Her husband Dr George Wilkinson set up the city's first hospital and introduced a program to address the pervasive curse of opium addiction.Amy's holistic and vocational approach to disability education brought her national and later international recognition. In 1920, the president of the new Chinese republic awarded her the Order of the Golden Grain, the highest honour a foreigner could receive. Two years later, Amy and the School's brass band were presented to Queen Mary in England.Amy's story highlights the significance of Australia's contribution to the development of early modern China and is a challenge to anyone committed to making their life count for others.
- Publisher


Meet the Authors
Linda Banks
Linda Banks has worked as a teacher, pastor and chaplain in churches, universities and other educational institutions. Together with her husband Robert, she has co-authored a range of creative Christian resources. Robert and Linda also enjoy visiting and learning about other places and cultures, most recently China.
Robert Banks
Robert Banks (Ph.D.,University of Cambridge), was director and dean of Macquarie Christian Studies Institute in Sydney, Australia, and former Professor of Laity and founding director of the new De Pree Center for Leadership at Fuller Theological Seminary. He is the author of many books, including Redeeming the Routines, God the Worker, Faith Goes to Work, The Tyranny of Time, Paul's Idea of Community, and he teamed up with another leading author in the field of applying Christianity to everyday life, R. Paul Stevens of Regent College-Vancouver, to produce one of the top five volumes in the whole field, The Complete Book of Everyday Christianity. Together with his wife Linda - also an author, as well as an experienced teacher and chaplain - Robert enjoys visiting and learning about other places and cultures, most recently China.
Table Of Contents
Amy Oxley Wilkinson Was Arguably The Most Widely Known Female Australian Missionary In China And The West In The Early 20th Century. She Was The Great Granddaughter Of Colonial Chaplain Samuel Marsden And Granddaughter Of Celebrated Explorer John Oxley. After Rescuing An Abandoned Blind Boy, She Founded An Innovative Blind Boys School In Fuzhou Which Is Now A Major Institution In Fujian Province. Her Husband Dr George Wilkinson Set Up The City's First Hospital And Introduced A Program To Address The Pervasive Curse Of Opium Addiction.amy's Holistic And Vocational Approach To Disability Education Brought Her National And Later International Recognition. In 1920, The President Of The New Chinese Republic Awarded Her The Order Of The Golden Grain, The Highest Honour A Foreigner Could Receive. Two Years Later, Amy And The School's Brass Band Were Presented To Queen Mary In England.amy's Story Highlights The Significance Of Australia's Contribution To The Development Of Early Modern China And Is A Challenge To Anyone Committed To Making Their Life Count For Others.