Thin Ice (#02 in Men Of Valor Series)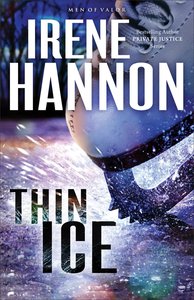 After losing her parents in a car accident and her sister to a house fire, Christy Reed has been mired in grief. Life is finally starting to feel normal again when an envelope arrives in the mail--addressed in her sister's handwriting. And the note inside claims she is still alive.

FBI Special Agent Lance McGregor, a former Delta Force operator, is assigned to reopen the case, but he's coming up with more questions than answers. If Ginny Reed is still alive--who is the woman buried in her grave? Where is Ginny? And is Christy a pawn in a twisted cat-and-mouse game--or the target of a sinister plot? As he digs deeper, one thing becomes clear: whoever is behind the bizarre ruse has a deadly agenda.

Bestselling author and two-time Christy Award finalist Irene Hannon warms readers' hearts as they root for a romance between Lance and Christy, but she pulls out all the stops as this high-stakes thriller chills to the bone in a race to the finish.

- Publisher
You May Also Be Interested In
About "Thin Ice (#02 in Men Of Valor Series)"
After losing her parents in a car accident and her sister to a house fire, Christy Reed has been mired in grief. Life is finally starting to feel normal again when an envelope arrives in the mail--addressed in her sister's handwriting. And the note inside claims she is still alive.

FBI Special Agent Lance McGregor, a former Delta Force operator, is assigned to reopen the case, but he's coming up with more questions than answers. If Ginny Reed is still alive--who is the woman buried in her grave? Where is Ginny? And is Christy a pawn in a twisted cat-and-mouse game--or the target of a sinister plot? As he digs deeper, one thing becomes clear: whoever is behind the bizarre ruse has a deadly agenda.

Bestselling author and two-time Christy Award finalist Irene Hannon warms readers' hearts as they root for a romance between Lance and Christy, but she pulls out all the stops as this high-stakes thriller chills to the bone in a race to the finish.
- Publisher


Meet the Author
Irene Hannon
Irene Hannon is the bestselling and award-winning author of more than fifty novels, including Buried Secrets and Thin Ice, as well as the Heroes of Quantico, Guardians of Justice, and Private Justice series. In addition to many other honors, she is a seven-time finalist for and three-time winner of the prestigious RITA Award from Romance Writers of America. She is also a member of RWA's elite Hall of Fame. Learn more at www.irenehannon.
Customer Reviews For "Thin Ice (#02 in Men Of Valor Series)"
Write Your Own Review
Another awesome novel from Irene Hannon
By Katelyn,

Jun 03 2016
Irene Hannon has done it again! This is an awesome book to read, and it kept me in suspense all the way to the very last page. A mixture of suspense and romance, this novel captured my attention from the first page and I just couldn't put it down. I have already ordered the next one online, even though it hasn't yet been writtenpublished. Definitely a must-read!
---
Wow! The Suspense!
By Rochelle, NSW,

Mar 09 2016
Irene Hannon has written another great story! Christmas Reeds story just grabs you. Then she's hit again by one very sick man!
Meet Lance McGregor and you feel like she's going to be ok and it's going to be figured out, but then... !!! I can't tell you! You'll have to read the book!
Thin Ice indeed!
---
Fantastic Book
By Kimberley,

Feb 16 2016
I loved this book. It captured my attention right from the beginning and I couldn't put it down. I had been waiting for this book ever since I read the first in the series. I really enjoy Irene Hannon's books and was so excited to read this book. The suspense along with romance make this a fantastic book that I would recommend to everyone.
---
Variation on a theme
By Katie Donovan,

Jan 01 2016
Irene Hannon's romantic suspense novels are becoming just a little too predictable for me, right down to the 'five months later' epilogue complete with... well, if you've read any of her other novels you'll know what happens in the epilogues, but in case this will be your first . . . I'll zip my lips.

We have the usual 'female brings case to male' scenario.  They're instantly attracted to one another but agree not to pursue a romantic relationship until the professional one is over.  She's gorgeous, he's a hunk; but there's this kind of 'hubba, hubba' waggling eyebrows tone to some of the observations that makes me cringe a little inside. The focus does switch to more of an emotional connection as the story progresses, but they don't actually spend a lot of time getting to know one another. The romantic relationship derives most of its momentum from the characters' thoughts about one another.

I'm also getting a bit bored with Hannon's protagonists. They all seem to be a variation of the same male or female prototype.  Even the antagonists tend to share similar sociopathic traits. 

In spite of the above, I wouldn't say it's a bad book. I was just hoping this book would offer a few deviations from the Hannon mould.

{{review.title}}
By {{review.author.name}},

{{review.reviewCreatedDate | date:'MMM dd yyyy'}}

{{reviewdescription}}
{{review.text}}
---
Other Titles In The "Men Of Valor" Series