Things Left Unspoken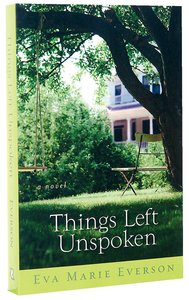 Jo-Lynn Hunter is at a crossroads in life when her great-aunt Stella insists that she return home to restore the old family house in sleepy Cottonwood, Georgia. Seeing the project as the perfect excuse for some therapeutic time away from her self-absorbed husband and his snobby Atlanta friends, Jo-Lynn longs to get her teeth into a noteworthy and satisfying project. But things are not what they seem, both in the house and within the complex history of her family. Was her great-grandfather the pillar of the community she thought he was? What is Aunt Stella hiding? And will Jo-Lynn's marriage survive the renovation? Jo-Lynn isn't sure she wants to know the truth, but sometimes the truth has a way of making itself known. The past comes alive in this well-written and thoughtful novel full of secrets, drama, and family with a hint of Southern drawl.



- Publisher "What a lovely and deeply moving story Eva Marie Everson offers us in Things Left Unspoken. Her beautiful prose is a gateway into a world of small towns, family secrets and lost loves, with places and characters so real, you forget you're reading fiction. In fact, I didn't just read this story, I lived it! And I won't soon forget the treasures gathered on the journey."--Ann Tatlock, award-winning author of The Returning"In Things Left Unspoken, we are granted a front row seat to a generational love story that unfolds like a rare flower, filling our senses with wonder and imparting truth that when love is the foundation, anything can be restored."--Allison Bottke, author of One Little Secret and A Stitch in Time"A true southern novel from a true southern novelist. Things Left Unspoken is rich with humor and love."--DiAnn Mills, author of Breach of Trust "What a fine, fine book, full of insight, wonderful characters, and complex situations. Southern in the best tradition. A thoughtful discussion of what real love is and what we do because we love."--Gayle Roper, author of Fatal Deduction"Everson writes from the heart of the South. In Things Left Unspoken, she wonderfully portrays the intricacies of small town families with their darkest secrets and deepest bonds. From the first line, she engages the reader in Jo-Lynn's quest for a place to belong by gently unraveling a tale of tragic history, enduring love, and unexpected intrigue. This is a splendid book by one of the South's best contemporary authors."--Ramona Richards, author of The Taking of Carly Bradford and The Face of Deceit"Everson delivers a story that is powerful, heart wrenching, and thought-provoking. It is a story of restoration, not only of a house and town, but of innermost parts of a human being."--Yvonne Lehman, author, founder of Blue Ridge Mountains Christian Writers Conference"In Things Left Unspoken, Eva Marie takes her readers on a delightful ride of rediscovery, remodeling, and re-evaluating. And that's just what happens with the house! The wonderful treat is that it will do the same thing to your heart."--Denise Hildreth, author of the Savannah series, Flies on the Butter, and The Will of Wisteria

- Publisher
You May Also Be Interested In
About "Things Left Unspoken"
Jo-Lynn Hunter is at a crossroads in life when her great-aunt Stella insists that she return home to restore the old family house in sleepy Cottonwood, Georgia. Seeing the project as the perfect excuse for some therapeutic time away from her self-absorbed husband and his snobby Atlanta friends, Jo-Lynn longs to get her teeth into a noteworthy and satisfying project. But things are not what they seem, both in the house and within the complex history of her family. Was her great-grandfather the pillar of the community she thought he was? What is Aunt Stella hiding? And will Jo-Lynn's marriage survive the renovation? Jo-Lynn isn't sure she wants to know the truth, but sometimes the truth has a way of making itself known. The past comes alive in this well-written and thoughtful novel full of secrets, drama, and family with a hint of Southern drawl.


- Publisher

"What a lovely and deeply moving story Eva Marie Everson offers us in Things Left Unspoken. Her beautiful prose is a gateway into a world of small towns, family secrets and lost loves, with places and characters so real, you forget you're reading fiction. In fact, I didn't just read this story, I lived it! And I won't soon forget the treasures gathered on the journey."--Ann Tatlock, award-winning author of The Returning"In Things Left Unspoken, we are granted a front row seat to a generational love story that unfolds like a rare flower, filling our senses with wonder and imparting truth that when love is the foundation, anything can be restored."--Allison Bottke, author of One Little Secret and A Stitch in Time"A true southern novel from a true southern novelist. Things Left Unspoken is rich with humor and love."--DiAnn Mills, author of Breach of Trust "What a fine, fine book, full of insight, wonderful characters, and complex situations. Southern in the best tradition. A thoughtful discussion of what real love is and what we do because we love."--Gayle Roper, author of Fatal Deduction"Everson writes from the heart of the South. In Things Left Unspoken, she wonderfully portrays the intricacies of small town families with their darkest secrets and deepest bonds. From the first line, she engages the reader in Jo-Lynn's quest for a place to belong by gently unraveling a tale of tragic history, enduring love, and unexpected intrigue. This is a splendid book by one of the South's best contemporary authors."--Ramona Richards, author of The Taking of Carly Bradford and The Face of Deceit"Everson delivers a story that is powerful, heart wrenching, and thought-provoking. It is a story of restoration, not only of a house and town, but of innermost parts of a human being."--Yvonne Lehman, author, founder of Blue Ridge Mountains Christian Writers Conference"In Things Left Unspoken, Eva Marie takes her readers on a delightful ride of rediscovery, remodeling, and re-evaluating. And that's just what happens with the house! The wonderful treat is that it will do the same thing to your heart."--Denise Hildreth, author of the Savannah series, Flies on the Butter, and The Will of Wisteria
- Publisher


Meet the Author
Eva Marie Everson
Linda Evans Shepherd and Eva Marie Everson are both award-winning authors, successful speakers, radio personalities, and avid readers of fiction. They are the popular authors of The Potluck Club, The Potluck Club--Trouble's Brewing, and The Potluck Club--Takes the Cake. They've also led numerous Bible studies and women's retreats and still find time to be wives and mothers. Linda lives in Longmont, Colorado, and Eva lives in Casselberry, Florida.