Think Big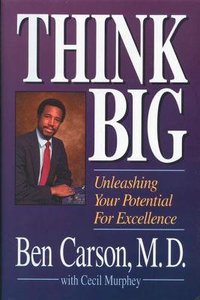 In Think Big, which emanates from the last chapter of his best-selling Gifted Hands, Dr. Ben Carson prescribes his personal formula for success. And who could better advise than one who transformed his own life from that of being a ghetto kid with problems in school to becoming the most celebrated pediatric neurosurgeon in the world? With an acrostic, Dr. Carson spells out his philosophy of living: T -Talents/time: Recognize as gifts from God H -Hope for good things and be honest I -insight from people and good books N -Be nice to all people K -Knowledge: Recognize as they key to living B -Books: Read them actively I -In-depth learning skills: Develop them G -God: Never get too big for Him -- Think Big does not offer pat answers, or promise a life of ease, but it does show how a person should view problems, evaluate them, react to them, and eventually overcome them. The philosophy in Think Big can be applied by all individuals to their own lives and help them to make the most of the g

- Publisher 18 Chapters

- Publisher Part OneGiving Their Best and Thinking BigThere are loyal hearts, there are spirits brave, There are souls that are pure and true; Then give the world the best you have, And the best will come back to you.-Madeline Bridges 13OneDo It Better!It is chiefly through books that we enjoy intercourse with superior minds. In the best books, great men talk to us, give us their most precious thoughts, and pour their souls into ours. God be thanked for books. They are the voices of the distant and the dead, and make us heirs of the spiritual life of past ages. Books are true levelers. They give to all who will faithfully use them, the society, the spiritual presence, of the best and greatest of our race.-William Ellery ChanningBenjamin, is this your report card?" my mother asked as she picked up the folded white card from the table."Uh, yeah," I said, trying to sound casual. Too ashamed to hand it to her, I had dropped it on the table, hoping that she wouldn''t notice until after I went to bed.It was the first report card I had received from Higgins Elementary School since we had moved back from Boston to Detroit, only a few months earlier.I had been in the fifth grade not even two weeks before everyone considered me the dumbest kid in the class and frequently made jokes about me. Before long I too began to feel as though I really was the most stupid kid in fifth grade. Despite Mother''s frequently saying, "You''re smart, Bennie. You can do anything you want to do," I did not believe her.No one else in school thought I was smart, either.Now, as Mother examined my report card, she asked, "What''s this grade in reading?" (Her tone of voice told me that I was in trouble.) Although I was embarrassed, I did not think too much about it. Mother knew that I wasn''t doing well in math, but she did not know I was doing so poorly in every subject.While she slowly read my report card, reading everything one word at a time, I hurried into my room and started to get ready for bed. A few minutes later, Mother came into my bedroom."Benjamin," she said, "are these your grades?" She held the card in front of me as if I hadn''t seen it before."Oh, yeah, but you know, it doesn''t mean much.""No, that''s not true, Bennie. It means a lot.""Just a report card.""But it''s more than that."Knowing I was in for it now, I prepared to listen, yet I was not all that interested. I did not like school very much and there was no reason why I should. Inasmuch as I was the dumbest kid in the class, what did I have to look forward to? The others laughed at me and made jokes about me every day."Education is the only way you''re ever going to escape poverty," she said. "It''s the only way you''re ever going to get ahead in life and be successful. Do you understand that?""Yes, Mother," I mumbled."If you keep on getting these kinds of grades you''re going to spend the rest of your life on skid row, or at best sweeping floors in a factory. That''s not the kind of life that I want for you. That''s not the kind of life that God wants for you."I hung my head, genuinely ashamed. My mother had been raising me and my older brother, Curtis, by herself. Having only a third-grade education herself, she knew the value of what she did not have. Daily she drummed into Curtis and me that we had to do our best in school."You''re just not living up to your potential," she said. "I''ve got two mighty smart boys and I know they can do better."I had done my best-at least I had when I first started at Higgins Elementary School. How could I do much when I did not understand anything going on in our class?In Boston we had attended a parochial school, but I hadn''t learned much because of a teacher who seemed more interested in talking to another female teacher than in teaching us. Possibly, this teacher was not solely to blame-perhaps I wasn''t emotionally able to learn much. My parents had separated just before we went to Boston, when I was eight years old. I loved both my mother and father and went through consider

- Publisher
You May Also Be Interested In
About "Think Big"
In Think Big, which emanates from the last chapter of his best-selling Gifted Hands, Dr. Ben Carson prescribes his personal formula for success. And who could better advise than one who transformed his own life from that of being a ghetto kid with problems in school to becoming the most celebrated pediatric neurosurgeon in the world? With an acrostic, Dr. Carson spells out his philosophy of living: T -Talents/time: Recognize as gifts from God H -Hope for good things and be honest I -insight from people and good books N -Be nice to all people K -Knowledge: Recognize as they key to living B -Books: Read them actively I -In-depth learning skills: Develop them G -God: Never get too big for Him -- Think Big does not offer pat answers, or promise a life of ease, but it does show how a person should view problems, evaluate them, react to them, and eventually overcome them. The philosophy in Think Big can be applied by all individuals to their own lives and help them to make the most of the g
- Publisher

18 Chapters
- Publisher

Part OneGiving Their Best and Thinking BigThere are loyal hearts, there are spirits brave, There are souls that are pure and true; Then give the world the best you have, And the best will come back to you.-Madeline Bridges 13OneDo It Better!It is chiefly through books that we enjoy intercourse with superior minds. In the best books, great men talk to us, give us their most precious thoughts, and pour their souls into ours. God be thanked for books. They are the voices of the distant and the dead, and make us heirs of the spiritual life of past ages. Books are true levelers. They give to all who will faithfully use them, the society, the spiritual presence, of the best and greatest of our race.-William Ellery ChanningBenjamin, is this your report card?" my mother asked as she picked up the folded white card from the table."Uh, yeah," I said, trying to sound casual. Too ashamed to hand it to her, I had dropped it on the table, hoping that she wouldn''t notice until after I went to bed.It was the first report card I had received from Higgins Elementary School since we had moved back from Boston to Detroit, only a few months earlier.I had been in the fifth grade not even two weeks before everyone considered me the dumbest kid in the class and frequently made jokes about me. Before long I too began to feel as though I really was the most stupid kid in fifth grade. Despite Mother''s frequently saying, "You''re smart, Bennie. You can do anything you want to do," I did not believe her.No one else in school thought I was smart, either.Now, as Mother examined my report card, she asked, "What''s this grade in reading?" (Her tone of voice told me that I was in trouble.) Although I was embarrassed, I did not think too much about it. Mother knew that I wasn''t doing well in math, but she did not know I was doing so poorly in every subject.While she slowly read my report card, reading everything one word at a time, I hurried into my room and started to get ready for bed. A few minutes later, Mother came into my bedroom."Benjamin," she said, "are these your grades?" She held the card in front of me as if I hadn''t seen it before."Oh, yeah, but you know, it doesn''t mean much.""No, that''s not true, Bennie. It means a lot.""Just a report card.""But it''s more than that."Knowing I was in for it now, I prepared to listen, yet I was not all that interested. I did not like school very much and there was no reason why I should. Inasmuch as I was the dumbest kid in the class, what did I have to look forward to? The others laughed at me and made jokes about me every day."Education is the only way you''re ever going to escape poverty," she said. "It''s the only way you''re ever going to get ahead in life and be successful. Do you understand that?""Yes, Mother," I mumbled."If you keep on getting these kinds of grades you''re going to spend the rest of your life on skid row, or at best sweeping floors in a factory. That''s not the kind of life that I want for you. That''s not the kind of life that God wants for you."I hung my head, genuinely ashamed. My mother had been raising me and my older brother, Curtis, by herself. Having only a third-grade education herself, she knew the value of what she did not have. Daily she drummed into Curtis and me that we had to do our best in school."You''re just not living up to your potential," she said. "I''ve got two mighty smart boys and I know they can do better."I had done my best-at least I had when I first started at Higgins Elementary School. How could I do much when I did not understand anything going on in our class?In Boston we had attended a parochial school, but I hadn''t learned much because of a teacher who seemed more interested in talking to another female teacher than in teaching us. Possibly, this teacher was not solely to blame-perhaps I wasn''t emotionally able to learn much. My parents had separated just before we went to Boston, when I was eight years old. I loved both my mother and father and went through consider
- Publisher


Meet the Authors
Ben Carson
Dr. Benjamin Carson MD is professor and director of paediatric neurosurgery at Johns Hopkins Medical Institutions and the author of three other bestselling books, Gifted Hands, Think Big and The Big Picture. He overcame an inner-city background to become a world renowned neurosurgeon, widely respected role model, he shares motivational insights with inner-city kids and corporate executives alike. He serves on the corporate boards of The Kellogg Company, Costco Wholesale Corp., and American's Promise among others, and is an Emeritus Fellow of the Yale Corporation. Dr. Carson holds more than 40 honorary doctorates and has been named by the Library of Congress as one of 89 Living Legends. He and his wife, Candy, have three sons and live in Baltimore County, Maryland.
Cecil Murphey
New York Times? best-selling author and international speaker CECIL (CEC) MURPHEY has written or co-written more than a hundred books, including the runaway bestseller 90 Minutes in Heaven (with Don Piper) and Gifted Hands: The Ben Carson Story (with Dr. Ben Carson). His books have sold millions of copies, have been translated into more than 40 languages, and have brought hope and encouragement to countless people around the world
Table Of Contents
Contents Introduction Part One Giving Their Best And Thinking Big One Do It Better! Two My Mother, Sonya Carson Three Mentors, Inspirers, And Influencers Four Medical Mentors Five Other Significant People Six Builders For Eternity Seven Parents And Patients Eight Taking Risks Nine Not Enough Part Two You Can Give Your Best And Think Big Ten Thinking Big Eleven Honesty Shows Twelve Insightful Thoughts Thirteen Nice Guys Finish Fourteen Knowledge Counts Fifteen Books Are For Reading Sixteen In-depth Learning Seventeen Caution: God At Work Eighteen Reaching For Success