Thinking For a Change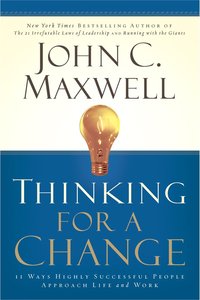 At the heart of John C. Maxwell's brilliant and inspiring book is a simple premise: To do well in life, we must first think well. But can we actually learn new mental habits? Thinking for a Change answers that with a resounding "yes" -- and shows how changing your thinking can indeed change your life. Drawing on the words and deeds of many of the world's greatest leaders and using interactive quizzes, this empowering book helps you assess your thinking style, guides you to new ones, and step by step teaches you the secrets of: Big-Picture Thinking -- seeing the world beyond your own needs and how that leads to great ideas. Focused Thinking -- removing mental clutter and distractions to realize your full potential. Creative Thinking -- stepping out of the "box" and making breakthroughs. Shared Thinking -- working with others to compound results. - Reflective Thinking -- looking at the past to gain a better understanding of the future ...and much more. Here America's most trusted and admired motivational teacher examines the very foundation of success and self-transformation. Illuminating and life-changing, Thinking for a Change is a unique primer not on what to think, but how to best use one of your most precious possessions: your mind.

- Publisher
You May Also Be Interested In
About "Thinking For a Change"
At the heart of John C. Maxwell's brilliant and inspiring book is a simple premise: To do well in life, we must first think well. But can we actually learn new mental habits? Thinking for a Change answers that with a resounding "yes" -- and shows how changing your thinking can indeed change your life. Drawing on the words and deeds of many of the world's greatest leaders and using interactive quizzes, this empowering book helps you assess your thinking style, guides you to new ones, and step by step teaches you the secrets of: Big-Picture Thinking -- seeing the world beyond your own needs and how that leads to great ideas. Focused Thinking -- removing mental clutter and distractions to realize your full potential. Creative Thinking -- stepping out of the "box" and making breakthroughs. Shared Thinking -- working with others to compound results. - Reflective Thinking -- looking at the past to gain a better understanding of the future ...and much more. Here America's most trusted and admired motivational teacher examines the very foundation of success and self-transformation. Illuminating and life-changing, Thinking for a Change is a unique primer not on what to think, but how to best use one of your most precious possessions: your mind.
- Publisher


Meet the Author
John C Maxwell
John C. Maxwell is an internationally recognized leadership expert, speaker, and author who has sold over 13 million books. His organizations have trained more than 2 million leaders worldwide. Dr. Maxwell is the founder of Injoy Stewardship Services and EQUIP. Every year he speaks to Fortune 500 companies, international government leaders, and organizations as diverse as the United States Military Academy at West Point and the National Football League. A New York Times, Wall Street Journal, and Business Week best-selling author, Maxwell was one of 25 authors and artists named to Amazon.com's 10th Anniversary Hall of Fame. Three of his books, The 21 Irrefutable Laws of Leadership, Developing the Leader Within You and The 21 Indispensable Qualities of a Leader have each sold over a million copies. - Publisher.