This Side of Heaven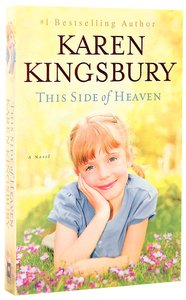 Annie Warren always wanted the best for her son, Josh. But years of failure and bad choices created a heartbreaking distance that has grown far worse since the day Josh was hit by a drunk driver. Now incapacitated, Josh has put his life on hold for years, waiting for the insurance company to send a settlement that never seems to come. Even worse, he believes the story of a scheming woman who claims they have a 7-year-old daughter named Savannah . Despite the unlikelihood and complete lack of evidence, Josh dreams of being a father and is determined to one day claim the child. His family doesn't know the full story. They don't know what happened the night of the accident that was worth the chronic pain Josh suffers every waking minute, or that he is turning his life around. They haven't seen that Savannah 's eyes are his, and they don't know how desperately the little girl needs her family. When the settlement that rightly belongs to Josh is threatened, Annie sets out to defend her son. But she might find a treasure more valuable than money, one she never expected, one that is the greatest gift her son could ever give her, THIS SIDE OF HEAVEN.



- Publisher A story of secrets, broken relationships, and a love strong enough to reunite a family. A stirring novel from New York Times bestselling author Karen Kingsbury.

- Publisher Karen's previous books with Center Street have sold exceptionally well: A THOUSAND TOMORROWS (2005) has netted over 115,000 copies in sales (including both hardcover and trade paper), and LIKE DANDELION DUST (6/06) has netted over 160,000 copies. JUST BEYOND THE CLOUDS released in September 2007 with initial sales of over 150,000 and hit #13 on theNew York Timesbestseller list.

- Publisher
You May Also Be Interested In
About "This Side of Heaven"
Annie Warren always wanted the best for her son, Josh. But years of failure and bad choices created a heartbreaking distance that has grown far worse since the day Josh was hit by a drunk driver. Now incapacitated, Josh has put his life on hold for years, waiting for the insurance company to send a settlement that never seems to come. Even worse, he believes the story of a scheming woman who claims they have a 7-year-old daughter named Savannah . Despite the unlikelihood and complete lack of evidence, Josh dreams of being a father and is determined to one day claim the child. His family doesn't know the full story. They don't know what happened the night of the accident that was worth the chronic pain Josh suffers every waking minute, or that he is turning his life around. They haven't seen that Savannah 's eyes are his, and they don't know how desperately the little girl needs her family. When the settlement that rightly belongs to Josh is threatened, Annie sets out to defend her son. But she might find a treasure more valuable than money, one she never expected, one that is the greatest gift her son could ever give her, THIS SIDE OF HEAVEN.


- Publisher

A story of secrets, broken relationships, and a love strong enough to reunite a family. A stirring novel from New York Times bestselling author Karen Kingsbury.
- Publisher

Karen's previous books with Center Street have sold exceptionally well: A THOUSAND TOMORROWS (2005) has netted over 115,000 copies in sales (including both hardcover and trade paper), and LIKE DANDELION DUST (6/06) has netted over 160,000 copies. JUST BEYOND THE CLOUDS released in September 2007 with initial sales of over 150,000 and hit #13 on theNew York Timesbestseller list.
- Publisher


Meet the Author
Karen Kingsbury
Karen Kingsbury is America's favorite inspirational novelist with over 5 million books in print. Her Life-Changing Fiction has produced multiple bestsellers including Even Now, One Tuesday Morning, Beyond Tuesday Morning, and the popular Redemption Series. An award-winning author and newly published songwriter, Karen has had several movies optioned for production and her Christmas novel, Gideon's Gift, is as a major motion picture.