This Way to Youth Ministry (Companion Guide)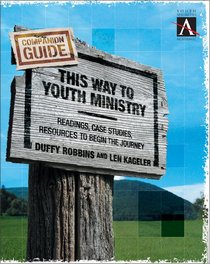 Everything You Always Wanted to Know About Youth Ministry (But Had No Way of Finding Out)Duffy Robbins, Len Kageler, and 10 of the most respected names in youth ministry, give you a hands-on, in-the-trenches look at the issues you'll face in youth ministry. Essays by Chap Clark, Helen Musick, and others provide case studies, guided discussions, and questions for reflection that bring to life the theory and theology of This Way to Youth Ministry. Here are some of the topics: -How will you balance your spiritual development with the needs of your group?-When is it a good idea to ignore the wishes of your boss?-Under what circumstances is it right to ask a student not to come to a group?-How can you know if you're called to youth ministry?-When is it right to "fire" a volunteer?-When is it right to "fire" yourself?Raw and relevant, this guide is full of first-hand experience from Dr. Chris Hall, Amy Jacober, and Allan Jackson, to name a few. Kageler and Robbins bring nearly 50 combined y

- Publisher ...a foundational textbook for the academic study of youth ministry.

- Publisher
You May Also Be Interested In
About "This Way to Youth Ministry (Companion Guide)"
Everything You Always Wanted to Know About Youth Ministry (But Had No Way of Finding Out)Duffy Robbins, Len Kageler, and 10 of the most respected names in youth ministry, give you a hands-on, in-the-trenches look at the issues you'll face in youth ministry. Essays by Chap Clark, Helen Musick, and others provide case studies, guided discussions, and questions for reflection that bring to life the theory and theology of This Way to Youth Ministry. Here are some of the topics: -How will you balance your spiritual development with the needs of your group?-When is it a good idea to ignore the wishes of your boss?-Under what circumstances is it right to ask a student not to come to a group?-How can you know if you're called to youth ministry?-When is it right to "fire" a volunteer?-When is it right to "fire" yourself?Raw and relevant, this guide is full of first-hand experience from Dr. Chris Hall, Amy Jacober, and Allan Jackson, to name a few. Kageler and Robbins bring nearly 50 combined y
- Publisher

...a foundational textbook for the academic study of youth ministry.
- Publisher


Meet the Author
Len Kageler
Len Kageler, Ph.D, is professor of youth ministry of Nyack College, in Nyack, New York. He began teaching in 1993, after 20 years as a full-time youth pastor. He stays active in youth ministry as a volunteer in junior high ministry, leads seminars for youth workers in the U.S., Europe, and Asia, and is also the executive administrator for the Association of Youth Ministry Educators. Len is the author of several other books, and coauthor of This Way to Youth Ministry Companion Guide.