Thrive, Don't Simply Survive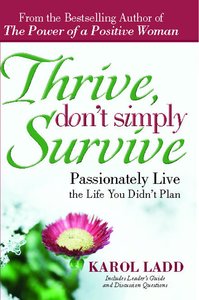 Life is unpredictable and often doesn't turn out as we'd planned. The things that matter most to us -- marriages, children, careers, families, and friends -- sometimes fall apart and leave us only with deflated dreams.

Whether you're struggling with the big issues of life or simply overwhelmed by the demands of every single day, Karol Ladd's powerful biblical principles will give you the help you need. In this book, you will discover how to redefine your unexpected life, and you'll learn concrete skills that will help you move past simply surviving and into a thriving life that is lived passionately and with joy.

New purpose and hope await you just beyond the cover of this book.

- Publisher
You May Also Be Interested In
About "Thrive, Don't Simply Survive"
Life is unpredictable and often doesn't turn out as we'd planned. The things that matter most to us -- marriages, children, careers, families, and friends -- sometimes fall apart and leave us only with deflated dreams.

Whether you're struggling with the big issues of life or simply overwhelmed by the demands of every single day, Karol Ladd's powerful biblical principles will give you the help you need. In this book, you will discover how to redefine your unexpected life, and you'll learn concrete skills that will help you move past simply surviving and into a thriving life that is lived passionately and with joy.

New purpose and hope await you just beyond the cover of this book.
- Publisher


Meet the Author
Karol Ladd
Karol Ladd, a former teacher, has authored twenty-one books, including the best-selling Silver Angel Award-winning The Power of a Positive Mom. She offers lasting hope and biblical truth to women around the world. A gifted communicator and dynamic leader, Karol is founder, and president of Positive Life Principles, Inc. and her vivacious personality makes her a popular speaker to women's organizations, church groups, and corporate events. She is co-founder of a character-building club for young girls called USA Sonshine Girls and serves on several educational boards. Karol and her husband, Curt, have two daughters and reside in Dallas, Texas. - Publisher.