Thru the Bible OT #16: Job (#16 in Thru The Bible Old Testament Series)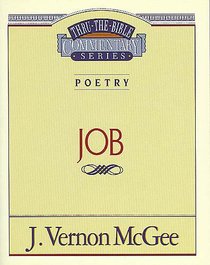 Radio messages from J. Vernon McGee delighted and enthralled listeners for years with simple, straightforward language and clear understanding of the Scripture. Now enjoy his personable, yet scholarly, style in a 60-volume set of commentaries that takes you from Genesis to Revelation with new understanding and insight. Each volume includes introductory sections, detailed outlines and a thorough, paragraph-by-paragraph discussion of the text. A great choice for pastors - and even better choice for the average Bible reader and student! Very affordable in a size that can go anywhere, it's available as a complete 60-volume series, in Old Testament or New Testament sets, or individually.

- Publisher 42 Chapters

- Publisher These are popular messages, prepared originally for a radio audience. They should not be considered a commentary on the entire Bible in any sense of that term. These messages are devoid of any attempt to present a theological or technical commentary on the Bible. Behind these messages is a great deal of research and study in order to interpret the Bible from a popular rather than from a scholarly (and too-often boring) viewpoint.

- Publisher
You May Also Be Interested In
About "Thru the Bible OT #16: Job (#16 in Thru The Bible Old Testament Series)"
Radio messages from J. Vernon McGee delighted and enthralled listeners for years with simple, straightforward language and clear understanding of the Scripture. Now enjoy his personable, yet scholarly, style in a 60-volume set of commentaries that takes you from Genesis to Revelation with new understanding and insight. Each volume includes introductory sections, detailed outlines and a thorough, paragraph-by-paragraph discussion of the text. A great choice for pastors - and even better choice for the average Bible reader and student! Very affordable in a size that can go anywhere, it's available as a complete 60-volume series, in Old Testament or New Testament sets, or individually.
- Publisher

42 Chapters
- Publisher

These are popular messages, prepared originally for a radio audience. They should not be considered a commentary on the entire Bible in any sense of that term. These messages are devoid of any attempt to present a theological or technical commentary on the Bible. Behind these messages is a great deal of research and study in order to interpret the Bible from a popular rather than from a scholarly (and too-often boring) viewpoint.
- Publisher


Meet the Author
J Vernon Mcgee
Dr. J. Vernon McGee (1904-1988) spent more than 50 years teaching the Bible on his "Thru the Bible" radio broadcast. He pastored for more than 40 years and has authored many best-selling books, including Doctrine for Difficult Days.
Other Titles In The "Thru The Bible Old Testament" Series View All