Thunder on the Dos Gatos (#04 in West Texas Sunrise Series)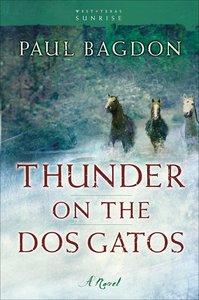 In 1880s Texas, the small town of Burnt Rock is on the brink of getting pulled into the tumultuous range wars. A thousand longhorn cattle are milling nearby as impatient and trigger-happy cowboys await the rebuilding of the bridge over the Dos Gatos River-the best route to the railroads.
Rugged lawman Ben Flood is struggling to keep the peace. His sweetheart, lady rancher Lee Morgan finds her best mares slaughtered, yet the trouble has only begun. Lee and Ben must summon every ounce of courage and strength when a rare form of lightning sends a massive herd of longhorns stampeding toward the town. The soul-stirring suspense, subtle romance, and riveting action in Thunder on the Dos Gatos will captivate fans of western, romance, and historical fiction alike.

- Publisher
You May Also Be Interested In
About "Thunder on the Dos Gatos (#04 in West Texas Sunrise Series)"
In 1880s Texas, the small town of Burnt Rock is on the brink of getting pulled into the tumultuous range wars. A thousand longhorn cattle are milling nearby as impatient and trigger-happy cowboys await the rebuilding of the bridge over the Dos Gatos River-the best route to the railroads.
Rugged lawman Ben Flood is struggling to keep the peace. His sweetheart, lady rancher Lee Morgan finds her best mares slaughtered, yet the trouble has only begun. Lee and Ben must summon every ounce of courage and strength when a rare form of lightning sends a massive herd of longhorns stampeding toward the town. The soul-stirring suspense, subtle romance, and riveting action in Thunder on the Dos Gatos will captivate fans of western, romance, and historical fiction alike.
- Publisher


Meet the Author
Paul Bagdon
Paul Bagdon is a lifelong horseman and former rodeo competitor. Twenty-four of his action adventure novels have been published and he is the author of 250 short stories and articles.
Other Titles In The "West Texas Sunrise" Series