Tidings of Comfort and Joy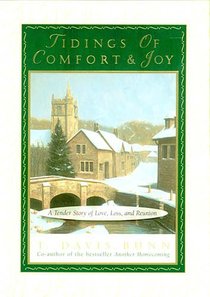 The Christmas season evokes many memories, not all of them joyful. In this remarkable story within a story, a grandmother shares her tale of love and loss, of small acts of heroism in a war-weary English village, and of the transforming power of trust in God. Through it, the new generation is gifted with true "Tidings of Comfort and Joy" and learns to treasure the sacredness of the day.

- Publisher 128 Pages

- Publisher As the questions begin, an extraordinary story unfolds. A story of love and loss and caring, of separation and reunion. Of small acts of heroism in a distant and war-weary English village, now half a century ago. As her grandmother shares this story with Marissa, the two discover that the most precious gift of Christmas is that of the present. And the season of giving is not limited to once a year.

- Publisher
You May Also Be Interested In
About "Tidings of Comfort and Joy"
The Christmas season evokes many memories, not all of them joyful. In this remarkable story within a story, a grandmother shares her tale of love and loss, of small acts of heroism in a war-weary English village, and of the transforming power of trust in God. Through it, the new generation is gifted with true "Tidings of Comfort and Joy" and learns to treasure the sacredness of the day.
- Publisher

128 Pages
- Publisher

As the questions begin, an extraordinary story unfolds. A story of love and loss and caring, of separation and reunion. Of small acts of heroism in a distant and war-weary English village, now half a century ago. As her grandmother shares this story with Marissa, the two discover that the most precious gift of Christmas is that of the present. And the season of giving is not limited to once a year.
- Publisher


Meet the Author
T Davis Bunn
Davis Bunn is an internationally-acclaimed award-winning author who has sold more than four million books in fifteen languages. He has been honoured with three Christy Awards for excellence in historical and suspense fiction. He has written several bestsellers including Winner Take All, Drummer in the Dark, The Meeting Place, The Book of Hours, Imposter, and The Quilt. He's also the co-author of the Song of Acadia series with Janette Oke. As a result of his book, To the Ends of the Earth, Bunn was named the Novelist in Residence at Regent's Park College, Oxford University. - Publisher.