Tiffany Girl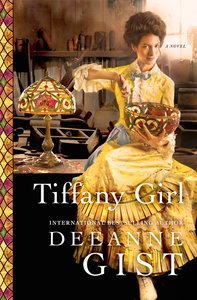 From the bestselling author of It Happened at the Fair and Fair Play comes a compelling historical novel about a progressive "New Woman"-the girl behind Tiffany's chapel-and the love that threatens it all.

As preparations for the 1893 World's Fair set Chicago and the nation on fire, Louis Tiffany-heir to the exclusive Fifth Avenue jewelry empire-seizes the opportunity to unveil his state-of-the-art, stained glass, mosaic chapel, the likes of which the world has never seen.

But when Louis's dream is threatened by a glassworkers' strike months before the Fair opens, he turns to an unforeseen source for help: the female students at the Art Students League of New York. Eager for adventure, the young women pick up their skirts, move to boarding houses, take up steel cutters, and assume new identities as the "Tiffany Girls."

Tiffany Girl is the heartwarming story of the impetuous Flossie Jayne, a beautiful, budding artist who is handpicked by Louis to help complete the Tiffany chapel. Though excited to live in a boarding house when most women stayed home, she quickly finds the world is less welcoming than anticipated. From a Casanova male, to an unconventional married couple, and a condescending singing master, she takes on a colorful cast of characters to transform the boarding house into a home while racing to complete the Tiffany chapel and make a name for herself in the art world.

As challenges mount, her ambitions become threatened from an unexpected quarter: her own heart. Who will claim victory? Her dreams or the captivating boarder next door?

- Publisher
You May Also Be Interested In
About "Tiffany Girl"
From the bestselling author of It Happened at the Fair and Fair Play comes a compelling historical novel about a progressive "New Woman"-the girl behind Tiffany's chapel-and the love that threatens it all.

As preparations for the 1893 World's Fair set Chicago and the nation on fire, Louis Tiffany-heir to the exclusive Fifth Avenue jewelry empire-seizes the opportunity to unveil his state-of-the-art, stained glass, mosaic chapel, the likes of which the world has never seen.

But when Louis's dream is threatened by a glassworkers' strike months before the Fair opens, he turns to an unforeseen source for help: the female students at the Art Students League of New York. Eager for adventure, the young women pick up their skirts, move to boarding houses, take up steel cutters, and assume new identities as the "Tiffany Girls."

Tiffany Girl is the heartwarming story of the impetuous Flossie Jayne, a beautiful, budding artist who is handpicked by Louis to help complete the Tiffany chapel. Though excited to live in a boarding house when most women stayed home, she quickly finds the world is less welcoming than anticipated. From a Casanova male, to an unconventional married couple, and a condescending singing master, she takes on a colorful cast of characters to transform the boarding house into a home while racing to complete the Tiffany chapel and make a name for herself in the art world.

As challenges mount, her ambitions become threatened from an unexpected quarter: her own heart. Who will claim victory? Her dreams or the captivating boarder next door?
- Publisher


Meet the Author
Deeanne Gist
Deeanne Gist, the bestselling author of A Bride Most Begrudging and The Measure of a Lady, has a background in education and journalism. Her credits include People magazine, Parents, and Parenting. With a line of parenting products called "I Did It! Productions" and a degree from Texas A and M, she continues her writing and speaking. She and her family live in Houston, Texas. Visit Deeanne's Web site at www.deeannegist.com
Customer Reviews For "Tiffany Girl"
Write Your Own Review
Another World Fair Classic
By Anthea,

Dec 24 2015
Now I'm not going to lie, I only picked this book up because I love Deeanne Gist. The blurb didn't originally grab me but I thought-You loved the other World Fair series- Lets try another! 

The start of the book is great as we are introduced to Flossie as she decided that as a 'New Girl' ( sort of suffragette) she should have the opportunity to earn the money from her own work. 

Using her artistic talent is hired to work with stained glass in preparation for the World Fair. 

So much of the book revolves around Flossie's journey from spoilt young woman to mature woman with the introduction of her new boarding house living mates. 

I found myself heartbroken and crying as Flossie's world collapses around her as she starts to understand herself. 

The ending of the book rushes through a number of months which is slightly disappointing as I would have loved to travel with Flossie as she matures but is a great ending. 

Keep an eye out for characters from the other World Fair books and be prepared with tissues! 



---
Great Historical Fiction
By Rebecca,

Dec 16 2015
I hadn't read historical fiction for a while, however when I saw this book advertised I was dying to read it ... and it didn't disappoint.  This book was set around the time of the Chicago World Fair, at a time when women started to stand up for their rights, working and living independently.  'Flossie' worked as a Tiffany girl while discovering the ups and downs of living independently in a boarding house.    
---
Excellent, as always
By Iola,

Jun 30 2015
Tiffany Girl centers around Flossie Jayne, a "New Woman" with radical ideas, like that she should be able to keep the money she earns, not give it to her father to lose at the races (I agree). I found this historical aspect fascinating, especially how the Tiffany Girls took the jobs for a fraction of the money the men were asking. Women like Flossie paved the way for women to have equal rights in the workplace.

Flossie is a great character. She's hardworking and determined and has been raised to believe the best of herself and other people. This can mean she comes across as a little nave and overly trusting, and she doesn't always make good decisions. But even her faults felt real, and that's the highest compliment I can pay any fictional character. I was rooting for her to win even as she did things that I could tell were going to go wrong.

I think Deeanne Gist is an excellent writer, and this novel provides the proof. There are a lot of minor characters, but never so many that I got confused. There is plenty of conflict, both internal and external, both of which served to move the story forward. The dialogue is excellent, with plenty of understated romantic tension between Flossie and Reeve. It was both sweet and swoon-worthy, as both Flossie and Reeve had to reevaluate the way they saw themselves and the world in order to overcome the obstacles between them

Thanks to NetGalley for providing a free ebook for review. 
{{review.title}}
By {{review.author.name}},

{{review.reviewCreatedDate | date:'MMM dd yyyy'}}

{{reviewdescription}}
{{review.text}}
---