Time Traps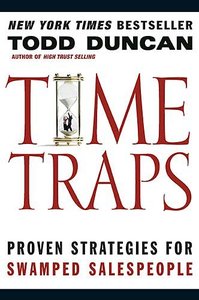 Productivity. It has been a buzz word in the business world for years. But despite our best attempts and countless self-help books, we still fall behind, work late, juggle our schedules, and become swamped. Time Traps addresses the most common misconceptions we have about time and our use of that time in the marketplace. Duncan has proven remedies for universal time troubles, and he shows readers how to set a schedule that works?not just some days but every day. With the principles in Time Traps, salespeople will see a rise in their sales as they experience a drop in their working hours.

- Publisher Todd Duncan, Founder of The Duncan Group in Atlanta, Georgia, is one of America's leading experts in the area of Sales and Life Mastery. His tapes, seminars, and books, including the Wall Street Journal bestseller High Trust Selling and Killing the Sale, have helped millions worldwide to tap into their potential. Todd and his wife, Sheryl, and their two boys live in LaJolla, California.

- Publisher There is a difference between being busy and being productive. Think of the challenges you face-in your sales career, your health, your spirituality, and your most cherished relationships. At their heart, most of those challenges are related to how you spend your time. In this revolutionary yet practical book, Todd Duncan shows why you should abandon the pointless pursuit of time management and, instead, adopt a far more actionable approach: task management. You'll discover the time traps that can daily rob you of your success. You'll recognize yourself in: The Organization Trap: You face a constant stream of tasks that are, frankly, unnecessary. Learn how to dam that stream, and let through only the tasks of your choosing, freeing up to four hours a day on and off the job. The Control Trap: Are you a control freak? Are you still wasting time with tasks that could be accomplished by others? Time to adopt a CEO mindset, exercise your skills in team building ... and then discover the liberating relief of delegation. The Quota Trap: A "quota mindset" is very often at odds with a value-producing, long-term mindset. Even as you're counting sales, you may actually be losing them! The Technology Trap: Are all of those timesaving gadgets serving you, or are you serving them? Finally, a refreshingly honest look at how to use technology...and how to know when to put it away. The Failure Trap: Stop wasting time worrying about yesterday. Discover how to make the most of the only moment you can do anything about: this moment. It's time to stop trading your time for a poor return. Time Traps challenges you to invest your time in the areas that will truly deliver dividends: Your health. Your financial fitness. Your relationships. Your knowledge. And your purpose. Let Todd Duncan show you the way. Get started today. After all, there's no time to lose.

- Publisher
You May Also Be Interested In
About "Time Traps"
Productivity. It has been a buzz word in the business world for years. But despite our best attempts and countless self-help books, we still fall behind, work late, juggle our schedules, and become swamped. Time Traps addresses the most common misconceptions we have about time and our use of that time in the marketplace. Duncan has proven remedies for universal time troubles, and he shows readers how to set a schedule that works?not just some days but every day. With the principles in Time Traps, salespeople will see a rise in their sales as they experience a drop in their working hours.
- Publisher

Todd Duncan, Founder of The Duncan Group in Atlanta, Georgia, is one of America's leading experts in the area of Sales and Life Mastery. His tapes, seminars, and books, including the Wall Street Journal bestseller High Trust Selling and Killing the Sale, have helped millions worldwide to tap into their potential. Todd and his wife, Sheryl, and their two boys live in LaJolla, California.
- Publisher

There is a difference between being busy and being productive. Think of the challenges you face-in your sales career, your health, your spirituality, and your most cherished relationships. At their heart, most of those challenges are related to how you spend your time. In this revolutionary yet practical book, Todd Duncan shows why you should abandon the pointless pursuit of time management and, instead, adopt a far more actionable approach: task management. You'll discover the time traps that can daily rob you of your success. You'll recognize yourself in: The Organization Trap: You face a constant stream of tasks that are, frankly, unnecessary. Learn how to dam that stream, and let through only the tasks of your choosing, freeing up to four hours a day on and off the job. The Control Trap: Are you a control freak? Are you still wasting time with tasks that could be accomplished by others? Time to adopt a CEO mindset, exercise your skills in team building ... and then discover the liberating relief of delegation. The Quota Trap: A "quota mindset" is very often at odds with a value-producing, long-term mindset. Even as you're counting sales, you may actually be losing them! The Technology Trap: Are all of those timesaving gadgets serving you, or are you serving them? Finally, a refreshingly honest look at how to use technology...and how to know when to put it away. The Failure Trap: Stop wasting time worrying about yesterday. Discover how to make the most of the only moment you can do anything about: this moment. It's time to stop trading your time for a poor return. Time Traps challenges you to invest your time in the areas that will truly deliver dividends: Your health. Your financial fitness. Your relationships. Your knowledge. And your purpose. Let Todd Duncan show you the way. Get started today. After all, there's no time to lose.
- Publisher


Meet the Author
Todd Duncan
Todd Duncan, CEO and founder of The Duncan Group in Atlanta, Georgia, is one of America's leading experts in the area of Sales and Life Mastery. His tapes, seminars, and books, including High Trust Selling, Time Traps, and Killing the Sale: The 10 Fatal Mistakes Salespeople Make and How To Avoid Them have helped millions worldwide tap into their potential.