To Alter Your World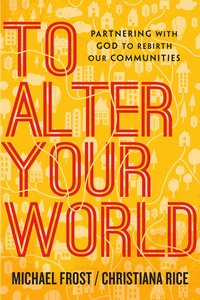 In Christ, a new world is being born and the new creation is unfurling all around us. God is directing history toward the future restoration, repair, and renewal of all creation. And our job is to cooperate with God in being a sign and foretaste of that coming world. Renowned missional leaders Michael Frost and Christiana Rice introduce the bold metaphor of a midwife to depict us as God's birthing attendants as the kingdom comes on earth as it is in heaven.With groundbreaking ideas and practical illustrations from all corners of the globe, To Alter Your World will change the way you see how your church can partner in God's world-altering mission. Nothing else could be more rewarding than laboring alongside a God who is birthing the new creation and inviting all to join in its benefits and blessings.

- Publisher
You May Also Be Interested In
About "To Alter Your World"
In Christ, a new world is being born and the new creation is unfurling all around us. God is directing history toward the future restoration, repair, and renewal of all creation. And our job is to cooperate with God in being a sign and foretaste of that coming world. Renowned missional leaders Michael Frost and Christiana Rice introduce the bold metaphor of a midwife to depict us as God's birthing attendants as the kingdom comes on earth as it is in heaven.With groundbreaking ideas and practical illustrations from all corners of the globe, To Alter Your World will change the way you see how your church can partner in God's world-altering mission. Nothing else could be more rewarding than laboring alongside a God who is birthing the new creation and inviting all to join in its benefits and blessings.
- Publisher


Meet the Author
Michael Frost
Michael Frost (D.Min) is Vice-Principal and Professor of Evangelism and Missions at Morling College in Sydney, Australia - and a Baptist Minister. He is the author of Exiles: Living Missionally in a Post-Christian Culture; Jesus the Fool: The Mission of the Unconventional Christ; Seeing God in the Ordinary: A Theology of the Everyday and the co-author of The Shaping of Things to Come: Innovation and Mission for the 21st-Century Church and ReJesus: A Wild Messiah for a Missional Church.
Table Of Contents
In Christ, A New World Is Being Born And The New Creation Is Unfurling All Around Us. God Is Directing History Toward The Future Restoration, Repair, And Renewal Of All Creation. And Our Job Is To Cooperate With God In Being A Sign And Foretaste Of That Coming World. Renowned Missional Leaders Michael Frost And Christiana Rice Introduce The Bold Metaphor Of A Midwife To Depict Us As God's Birthing Attendants As The Kingdom Comes On Earth As It Is In Heaven.with Groundbreaking Ideas And Practical Illustrations From All Corners Of The Globe, to Alter Your World Will Change The Way You See How Your Church Can Partner In God's World-altering Mission. Nothing Else Could Be More Rewarding Than Laboring Alongside A God Who Is Birthing The New Creation And Inviting All To Join In Its Benefits And Blessings.