To Be Told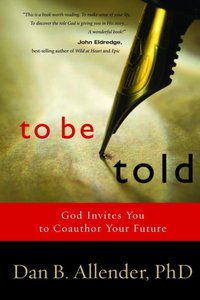 Would you willingly overlook clear direction from God that speaks directly to you and where you are in life right now?

God's guidance is near at hand. He is not only your Authority, he is also your Author. As God writes the stories of your life, he uses your past to open up your future.

It is your privilege to listen to your own story so you can live boldly for the sake of the Greatest Story, the good news of Jesus Christ. God reveals himself to you-and to others-through the story he has written in your life.
In this insightful and compelling book, Dr. Dan B. Allender shows you how to read the stories of your life. He helps you understand the meaning that God has written into every detail of who you are. As a result, you can share your story with others and listen to their story, revealing unique aspects of God's hand at work.

Starting today, you can find deeper meaning in your story-a story To Be Told.


From the Hardcover edition.

- Publisher
You May Also Be Interested In
About "To Be Told"
Would you willingly overlook clear direction from God that speaks directly to you and where you are in life right now?

God's guidance is near at hand. He is not only your Authority, he is also your Author. As God writes the stories of your life, he uses your past to open up your future.

It is your privilege to listen to your own story so you can live boldly for the sake of the Greatest Story, the good news of Jesus Christ. God reveals himself to you-and to others-through the story he has written in your life.
In this insightful and compelling book, Dr. Dan B. Allender shows you how to read the stories of your life. He helps you understand the meaning that God has written into every detail of who you are. As a result, you can share your story with others and listen to their story, revealing unique aspects of God's hand at work.

Starting today, you can find deeper meaning in your story-a story To Be Told.


From the Hardcover edition.
- Publisher


Meet the Author
Dan Allender
Dan B. Allender (PhD.,counseling psychology, Michigan State University) is a fly fisherman who also serves as professor of counseling and president of Mars Hill Graduate School in Seattle, Washington. He taught previously at Grace Theological Seminary and Colorado Christian University. A speaker and writer, his books include The Healing Path, To Be Told, How Children Raise Parents, The Wounded Heart and Leading with a Limp. With Tremper Longman, he wrote Bold Love, Cry of the Soul, Intimate Allies and Intimate Marriage Bible Studies.
-Editorial Review.