To Fly Again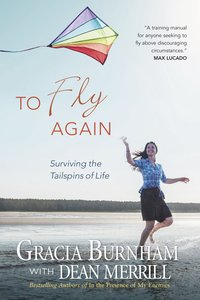 The world learned the horrendous details of Martin and Gracia Burnham's yearlong captivity in Gracia's book, In the Presence of My Enemies. To Fly Again, Gracia's reflections on the lessons and spiritual truths she learned in the jungle, contains 21 brief, theme-based chapters that squarely address the challenges each of us face when we lose control of some aspect of life. This book offers no pat answers or easy solutions, just the battle-tested wisdom of a woman who lived her greatest nightmare and came through it more convinced of God's grace than ever before. Even those unfamiliar with her dramatic story will be engaged by Gracia's insights on surviving life's unexpected crises.

- Publisher
You May Also Be Interested In
About "To Fly Again"
The world learned the horrendous details of Martin and Gracia Burnham's yearlong captivity in Gracia's book, In the Presence of My Enemies. To Fly Again, Gracia's reflections on the lessons and spiritual truths she learned in the jungle, contains 21 brief, theme-based chapters that squarely address the challenges each of us face when we lose control of some aspect of life. This book offers no pat answers or easy solutions, just the battle-tested wisdom of a woman who lived her greatest nightmare and came through it more convinced of God's grace than ever before. Even those unfamiliar with her dramatic story will be engaged by Gracia's insights on surviving life's unexpected crises.
- Publisher


Meet the Authors
Gracia Burnham
Gracia Burnham is an award-winning author, the widow of Martin Burnham, and the mother of three. She and her husband worked as New Tribes missionaries to the Philippines from 1986 to May 2001. Until their capture, Martin was a missionary pilot, delivering mail, supplies and encouragement to other missionaries and transporting sick and injured patients to medical facilities. Gracia assisted in a variety of roles supporting the aviation program in the Philippines. Gracia resides in Rose Hill, Kansas with her three children.
Dean Merrill
Dean Merrill has been published in over 40 Christian magazines and is the author or co-author of 35 books.