To Have and to Hold (Bridal Veil Island Series)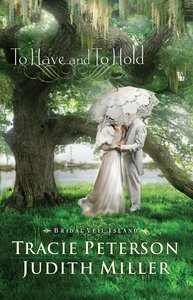 Bestselling Author Team Debuts New Historical Romance Series

When Audrey Cunningham's father proposes that they move to Bridal Veil Island, where he grew up, she agrees, thinking this will help keep him sober and close to God. But they arrive to find wealthy investors buying up land to build a grand resort on the secluded island--and they want the Cunninghams' acreage.

Contractor Marshall Graham can't imagine why the former drinking buddy of his deceased father would beckon him to Bridal Veil Island. And when Boyd Cunningham asks him to watch over Audrey, Marshall is even more confused. He has no desire to be saddled with caring for this fiery young woman who is openly hostile toward him. But when Audrey seems to be falling for another man--one who has two little girls Audrey adores--Marshall realizes she holds more of his heart than he realized. Which man will Audrey choose? And can she hold on to her ancestral property in the face of overwhelming odds?

- Publisher
You May Also Be Interested In
About "To Have and to Hold (Bridal Veil Island Series)"
Bestselling Author Team Debuts New Historical Romance Series

When Audrey Cunningham's father proposes that they move to Bridal Veil Island, where he grew up, she agrees, thinking this will help keep him sober and close to God. But they arrive to find wealthy investors buying up land to build a grand resort on the secluded island--and they want the Cunninghams' acreage.

Contractor Marshall Graham can't imagine why the former drinking buddy of his deceased father would beckon him to Bridal Veil Island. And when Boyd Cunningham asks him to watch over Audrey, Marshall is even more confused. He has no desire to be saddled with caring for this fiery young woman who is openly hostile toward him. But when Audrey seems to be falling for another man--one who has two little girls Audrey adores--Marshall realizes she holds more of his heart than he realized. Which man will Audrey choose? And can she hold on to her ancestral property in the face of overwhelming odds?
- Publisher


Meet the Authors
Tracie Peterson
Tracie Peterson is a full-time author who has written or co-written over 60 novels in both historical and contemporary genres which regularly appear on the bestseller lists, including the WESTWARD CHRONICLES, the YUKON QUEST and the SHANNON SAGA series. Tracie also teaches writing workshops at a variety of conferences on subjects including inspirational romance and historical research. Tracie and her family live in Montana. - Publisher.
Judith Miller
Judith Miller is an award-winning author whose avid research and love for history are reflected in her novels, two of which have placed in the CBA top ten lists. In addition to her writing, Judy is a certified legal assistant. Judy and her husband make their home in Topeka, Kansas.
Other Titles In The "Bridal Veil Island Series" Series