To Honor and Trust (Bridal Veil Island Series)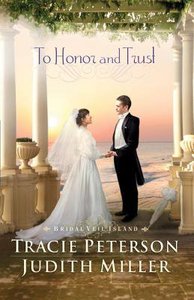 More Bestselling Fiction from Coauthors Tracie Peterson and Judith Miller

Callie DeBoyer is unsettled as she arrives at Bridal Veil Island with the Bridgeport family. She's just received a letter from her parents, missionaries in coastal Africa, stating they are in dire need of more personnel. Should Callie give up her governess job and join her parents in their important work? Is God calling her to the mission field, or does she just want to escape the emotional scars of being jilted by her former beau?

When she enrolls young Thomas Bridgeport in golf lessons, Callie meets Wesley Townsend, who urges Callie to take lessons, as well. During their time at the golf course, Callie comes to care for Wesley--until she discovers hidden secrets about his past.

Then expensive jewels go missing from various homes on the island, and suspicion is aimed in Callie's direction. As the investigation continues, Callie wonders if she should escape it all by going to Africa. After the secrets he kept about his past, will Wesley ever be a man she can honor and trust for the rest of her life?

- Publisher
You May Also Be Interested In
About "To Honor and Trust (Bridal Veil Island Series)"
More Bestselling Fiction from Coauthors Tracie Peterson and Judith Miller

Callie DeBoyer is unsettled as she arrives at Bridal Veil Island with the Bridgeport family. She's just received a letter from her parents, missionaries in coastal Africa, stating they are in dire need of more personnel. Should Callie give up her governess job and join her parents in their important work? Is God calling her to the mission field, or does she just want to escape the emotional scars of being jilted by her former beau?

When she enrolls young Thomas Bridgeport in golf lessons, Callie meets Wesley Townsend, who urges Callie to take lessons, as well. During their time at the golf course, Callie comes to care for Wesley--until she discovers hidden secrets about his past.

Then expensive jewels go missing from various homes on the island, and suspicion is aimed in Callie's direction. As the investigation continues, Callie wonders if she should escape it all by going to Africa. After the secrets he kept about his past, will Wesley ever be a man she can honor and trust for the rest of her life?
- Publisher


Meet the Authors
Tracie Peterson
Tracie Peterson is a full-time author who has written or co-written over 60 novels in both historical and contemporary genres which regularly appear on the bestseller lists, including the WESTWARD CHRONICLES, the YUKON QUEST and the SHANNON SAGA series. Tracie also teaches writing workshops at a variety of conferences on subjects including inspirational romance and historical research. Tracie and her family live in Montana. - Publisher.
Judith Miller
Judith Miller is an award-winning author whose avid research and love for history are reflected in her novels, two of which have placed in the CBA top ten lists. In addition to her writing, Judy is a certified legal assistant. Judy and her husband make their home in Topeka, Kansas.
Other Titles In The "Bridal Veil Island Series" Series