To Love and Cherish (Bridal Veil Island Series)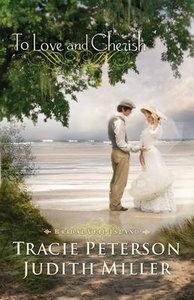 A Story of Romance and Intrigue on a Beautiful Island Resort, From Two Bestselling Authors

When Melinda Colson's employer announces they'll be leaving Bridal Veil Island to return to their home in Cleveland, Melinda hopes her beau, Evan, will propose. But Evan isn't prepared to make an offer of marriage until he knows he can support a wife and family. Evan works as the assistant gamekeeper on Bridal Veil but hopes to be promoted soon.

Letters strengthen their love, but Melinda remains frustrated at being apart from the man she wants to spend the rest of her life with. Then she learns of a devastating hurricane in Bridal Veil and knows she must give up her position as a lady's maid and make her way back to Evan.

The destruction on Bridal Veil is extensive, meaning every available person is needed to help with cleanup and repairs. Melinda finds a new job on the island, but Evan seems even busier than before, meaning she still never gets to see him. Has she given her heart to the wrong man?

And when Melinda overhears a vicious plot against President McKinley, who is scheduled to visit the island, is Evan the one she should turn to? Will Melinda and Evan ever get the chance to stand at the front of a church and promise "to love and cherish"?

- Publisher
You May Also Be Interested In
About "To Love and Cherish (Bridal Veil Island Series)"
A Story of Romance and Intrigue on a Beautiful Island Resort, From Two Bestselling Authors

When Melinda Colson's employer announces they'll be leaving Bridal Veil Island to return to their home in Cleveland, Melinda hopes her beau, Evan, will propose. But Evan isn't prepared to make an offer of marriage until he knows he can support a wife and family. Evan works as the assistant gamekeeper on Bridal Veil but hopes to be promoted soon.

Letters strengthen their love, but Melinda remains frustrated at being apart from the man she wants to spend the rest of her life with. Then she learns of a devastating hurricane in Bridal Veil and knows she must give up her position as a lady's maid and make her way back to Evan.

The destruction on Bridal Veil is extensive, meaning every available person is needed to help with cleanup and repairs. Melinda finds a new job on the island, but Evan seems even busier than before, meaning she still never gets to see him. Has she given her heart to the wrong man?

And when Melinda overhears a vicious plot against President McKinley, who is scheduled to visit the island, is Evan the one she should turn to? Will Melinda and Evan ever get the chance to stand at the front of a church and promise "to love and cherish"?
- Publisher


Meet the Authors
Tracie Peterson
Tracie Peterson is a full-time author who has written or co-written over 60 novels in both historical and contemporary genres which regularly appear on the bestseller lists, including the WESTWARD CHRONICLES, the YUKON QUEST and the SHANNON SAGA series. Tracie also teaches writing workshops at a variety of conferences on subjects including inspirational romance and historical research. Tracie and her family live in Montana. - Publisher.
Judith Miller
Judith Miller is an award-winning author whose avid research and love for history are reflected in her novels, two of which have placed in the CBA top ten lists. In addition to her writing, Judy is a certified legal assistant. Judy and her husband make their home in Topeka, Kansas.
Other Titles In The "Bridal Veil Island Series" Series