To the Farthest Shores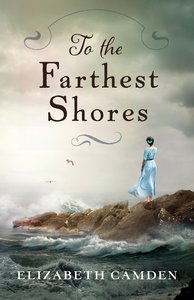 Acclaimed and Award-Winning Author's Talent Continues to Win Fans

It has been six years since army nurse Jenny Bennett's heart was broken by a dashing naval officer. Now Lieutenant Ryan Gallagher has abruptly reappeared in her life at the Presidio army base but refuses to discuss the inexplicable behavior that destroyed their happiness.

Ryan is in an impossible situation. One of the few men in the world qualified to carry out a daring assignment, he accepted a government mission overseas that caused his reputation to be destroyed and broke the heart of the only woman he ever loved. Honor bound never to reveal where he had been during those six years, he can't tell Jenny the truth or it will endanger an ongoing mission and put thousands of lives at risk.

Although Ryan thinks he may have finally found a solution, he can't pull it off on his own. Loyalty to her country compels Jenny to help, but she never could have imagined the intrigue she and Ryan will have to face or the lengths to which they will have to go to succeed.

- Publisher
You May Also Be Interested In
About "To the Farthest Shores"
Acclaimed and Award-Winning Author's Talent Continues to Win Fans

It has been six years since army nurse Jenny Bennett's heart was broken by a dashing naval officer. Now Lieutenant Ryan Gallagher has abruptly reappeared in her life at the Presidio army base but refuses to discuss the inexplicable behavior that destroyed their happiness.

Ryan is in an impossible situation. One of the few men in the world qualified to carry out a daring assignment, he accepted a government mission overseas that caused his reputation to be destroyed and broke the heart of the only woman he ever loved. Honor bound never to reveal where he had been during those six years, he can't tell Jenny the truth or it will endanger an ongoing mission and put thousands of lives at risk.

Although Ryan thinks he may have finally found a solution, he can't pull it off on his own. Loyalty to her country compels Jenny to help, but she never could have imagined the intrigue she and Ryan will have to face or the lengths to which they will have to go to succeed.
- Publisher


Meet the Author
Elizabeth Camden
Elizabeth Camden, author of "The Lady of Bolton Hill" and "The Rose of Winslow Stree"t, received a master's in history from University of Virginia and a master's in library science from Indiana University. She is a research librarian by day and scribbles away on her next novel by night. Elizabeth is a member of ACFW and RWA and lives with her husband in Florida. Visit her website at ElizabethCamden.com A
Customer Reviews For "To the Farthest Shores"
Write Your Own Review
Secrets
By Johanna,

Nov 17 2017
I had high hopes for this book, given that it's Elizabeth Camden. Out of all the books I have read of Camden's to date, I'd have to say Against the Tide is my favourite. Compared to it, 'To the Farthest shores' comes close, but something is missing. This book sees similarities with Against the Tide when considering the opium trade and undergoing withdrawal. Yet, that was not the focal point. 

There were a lot of secrets in this book. Personally, I don't know if it'd be as trusting as Jenny, especially when it comes to matters of the heart. This would be my only qualm with the book. This book does deliver romance, although subtly. It contained twists I did not see coming and from the blurb I had high expectations; different from what was delivered. I do recommend this book, however it could take you on an adventure you did not see comingexpect. 
---
Not her best
By Iola,

Apr 08 2017
To the Farthest Shores was shaky in comparison with Camden's earlier novels, and I found it took a long time to settle. 

There were a lot of secrets, and that annoyed me. I love the tension that comes from a novel where the reader knows something one of the main characters doesn't know, and we're then waiting with baited breath for the character to find out. When will they find out? How will they react? So much room for tension ... that's removed if the reader doesn't know what the secret is (in Jenny's case) or even that there is a secret (in Ryan's case). 

Overall, the story showed promise and ended well, but I found Jenny and Ryan's secrets-and the fact they both hid them-took away a lot of the tension and therefore took away a lot of the power of the story. The story lacked in any Christian content-not what I expect from a major Christian publisher like Bethany House. 

Thanks to Bethany House and NetGalley for providing a free ebook for review.
{{review.title}}
By {{review.author.name}},

{{review.reviewCreatedDate | date:'MMM dd yyyy'}}

{{reviewdescription}}
{{review.text}}
---