To Win Her Heart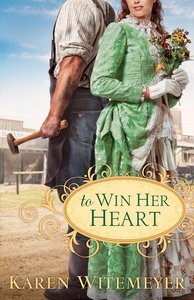 Do They Have a Fighting Chance at Love?

After completing his sentence for the unintentional crime that derailed his youthful plans for fame and fortune, Levi Grant looks to start over in the town of Spencer, Texas. Spencer needs a blacksmith, a trade he learned at his father's knee, and he needs a place where no one knows his past.

Eden Spencer has sworn off men, choosing instead to devote her time to the lending library she runs in the town her father founded. When a mountain-sized stranger walks through her door and asks to borrow a book, she's reluctant to trust him. Yet as the mysteries of the town's new blacksmith unfold, Eden discovers hidden depths in him that tempt her heart.

Eden believes she's finally found a man of honor and integrity. But when the truth about Levi's prodigal past comes to light, can this tarnished hero find a way to win back the librarian's affections?

"Witemeyer's hard-hitting Christian historical romance skillfully incorporates Jesus' parables of the prodigal son and the adulteress' rock-toting accusers into her characters' struggles with redemption, worthiness, and new beginnings. A commendable addition to the genre."--Booklist

"Witemeyer is a talented author who plumbs the heart and soul of her characters while keeping a smile on the lips of the reader. Gentle humor pervades the story, never mocking, never crude, yet consistently illuminating the conundrums of life... To Win Her Heart is charming inspirational fiction that will certainly win the hearts of those who enjoy this genre."-- Historical Novels Review

"Seamless writing with an unexpectedly complex plot... This novel has everything that I love about Christian historical fiction."--Christian Manifesto

- Publisher
You May Also Be Interested In
About "To Win Her Heart"
Do They Have a Fighting Chance at Love?

After completing his sentence for the unintentional crime that derailed his youthful plans for fame and fortune, Levi Grant looks to start over in the town of Spencer, Texas. Spencer needs a blacksmith, a trade he learned at his father's knee, and he needs a place where no one knows his past.

Eden Spencer has sworn off men, choosing instead to devote her time to the lending library she runs in the town her father founded. When a mountain-sized stranger walks through her door and asks to borrow a book, she's reluctant to trust him. Yet as the mysteries of the town's new blacksmith unfold, Eden discovers hidden depths in him that tempt her heart.

Eden believes she's finally found a man of honor and integrity. But when the truth about Levi's prodigal past comes to light, can this tarnished hero find a way to win back the librarian's affections?

"Witemeyer's hard-hitting Christian historical romance skillfully incorporates Jesus' parables of the prodigal son and the adulteress' rock-toting accusers into her characters' struggles with redemption, worthiness, and new beginnings. A commendable addition to the genre."--Booklist

"Witemeyer is a talented author who plumbs the heart and soul of her characters while keeping a smile on the lips of the reader. Gentle humor pervades the story, never mocking, never crude, yet consistently illuminating the conundrums of life... To Win Her Heart is charming inspirational fiction that will certainly win the hearts of those who enjoy this genre."-- Historical Novels Review

"Seamless writing with an unexpectedly complex plot... This novel has everything that I love about Christian historical fiction."--Christian Manifesto
- Publisher


Meet the Author
Karen Witemeyer
Karen Witemeyer holds a master's degree in psychology from Abilene Christian University and is a member of ACFW, RWA, and the Texas Coalition of Authors. She has published fiction in Focus on the Family's children's magazine, and has written several articles for online publications and anthologies. Tailor-Made Bride is her first novel. Karen lives in Abilene, Texas, with her husband and three children.
Customer Reviews For "To Win Her Heart"
Write Your Own Review
A lovely story
By Colleen,

Sep 25 2014
Karen's style of writing is captivating, fun and clever. 
---
Beautiful love story
By Audrey,

Mar 08 2014
This is one of those Karen Witemeyer books that reminds me why I love her books so much. I loved the 2 main characters in the book very much. I was holding my breath to see what Eden's response was going to be when she hears about Levi's past. I felt so sorry for Levi, because he is such a nice guy and now he is stuck with a past that people judge him for even though he paid his dues to society. And I loved that the author used an unlikely character to show Eden the error of her ways. This book definitely challenged me, as I think the author intended too, to not judge people for their circumstances and if God can forgive them, who am I to keep on throwing the stones.
---
Couldn't put it down
By Maxine,

Nov 06 2012
Karen Witemeyer has produced a novel that is both complex, full of depth, yet light hearted and enjoyable. 
Karen excels in making her characters, particularly the lead male, come to life with real (and relatable) flaws and feelings, whilst keep the story line interesting and fun. 
I particularly like her development of the male character as she has made the references to his past so relevant to his present. The characters have great depth and I do like her ability to include and deal with conflict. 
Certain events in the story were covered in a way that was substantial enough to provide emotion and feeling without becoming overly complicated or unbelievable, yet not shallow either. 
I do like the touches of humour and often found myself smiling. Karen writes so simply and captivatingly, I would definitely recommend this novel to those interested in historical Christian romance fiction.
{{review.title}}
By {{review.author.name}},

{{review.reviewCreatedDate | date:'MMM dd yyyy'}}

{{reviewdescription}}
{{review.text}}
---