Tolkien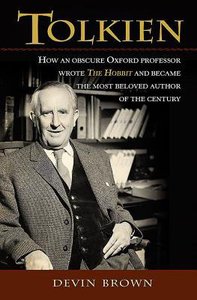 J.R.R. Tolkien transformed his love for arcane linguistic studies into a fantastic world of Middle Earth, a world filled with characters that readers the world over have loved and learned from for generations. Devin Brown focuses on the story behind how Tolkien became one of the best-known writers in the history of literature, a tale as fascinating and as inspiring as any of the fictional ones he would go on to write. Weaving in the major aspects of the author's life, career, and faith, Brown shares how Tolkien's beloved works came to be written. With a third follow-up film and the book's release the same month, there's a large interest in the faith values for these works. This book addresses that deep hunger to know what fuels the world and worldview of The Hobbit's celebrated author, Tolkien.

- Publisher
You May Also Be Interested In
About "Tolkien"
J.R.R. Tolkien transformed his love for arcane linguistic studies into a fantastic world of Middle Earth, a world filled with characters that readers the world over have loved and learned from for generations. Devin Brown focuses on the story behind how Tolkien became one of the best-known writers in the history of literature, a tale as fascinating and as inspiring as any of the fictional ones he would go on to write. Weaving in the major aspects of the author's life, career, and faith, Brown shares how Tolkien's beloved works came to be written. With a third follow-up film and the book's release the same month, there's a large interest in the faith values for these works. This book addresses that deep hunger to know what fuels the world and worldview of The Hobbit's celebrated author, Tolkien.
- Publisher


Meet the Author
Devin Brown
Devin Brown (Ph.D., University of South Carolina) is a Lilly scholar and professor of English at Asbury College. A C. S. Lewis aficionado, Brown has been regularly writing, teaching, and lecturing on Lewis for more than ten years. He has been invited to write chapters for six books, including a major chapter on The Screwtape Letters for the 4-volume series C. S. Lewis: Life, Works, and Legacy released by Praeger Publishers.


Devin's own book Inside Narnia: A Guide to Exploring The Lion, the Witch and the Wardrobe was published by Baker in 2005 and is currently in its sixth printing. His second Narnia book, Inside Prince Caspian: A Guide to Exploring the Return to Narnia, was released in January 2008, in advance of the second film. He has signed a contract to write a third Narnia book, Inside the Voyage of the Dawn Treader, to come out in 2010 before the third film.
Koorong - Editorial Review.