Tomorrow We Die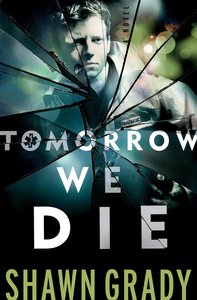 Jonathan Trestle is a paramedic who's spent the week a few steps behind the angel of death. When he responds to a call about a man sprawled on a downtown sidewalk, Trestle isn't about to lose another victim. CPR revives the man long enough for him to hand Trestle a crumpled piece of paper and say, "Give this to Martin," before being taken to the hospital.

The note is a series of dashes and haphazard scribbles. Trestle tries to follow up with the patient later, but at the ICU he learns the man awoke, pulled out his IVs, and vanished, leaving only a single key behind. Jonathan tracks the key to a nearby motel where he finds the man again--this time not just dead but murdered. Unwilling to just let it drop, Jonathan is plunged into a mystery that soon threatens not only his dreams for the future but maybe even his life.

- Publisher
You May Also Be Interested In
About "Tomorrow We Die"
Jonathan Trestle is a paramedic who's spent the week a few steps behind the angel of death. When he responds to a call about a man sprawled on a downtown sidewalk, Trestle isn't about to lose another victim. CPR revives the man long enough for him to hand Trestle a crumpled piece of paper and say, "Give this to Martin," before being taken to the hospital.

The note is a series of dashes and haphazard scribbles. Trestle tries to follow up with the patient later, but at the ICU he learns the man awoke, pulled out his IVs, and vanished, leaving only a single key behind. Jonathan tracks the key to a nearby motel where he finds the man again--this time not just dead but murdered. Unwilling to just let it drop, Jonathan is plunged into a mystery that soon threatens not only his dreams for the future but maybe even his life.
- Publisher


Meet the Author
Shawn Grady
Shawn Grady has served for more than a decade as a firefighter and paramedic in Reno, Nevada. The line of duty has taken him from high-rise fires in the city to the burning heavy timber of the eastern Sierras. He now lives with his wife and three children in southern Reno. He is the author of Through the Fire and Tomorrow We Die. Visit his website at shawngradybooks.com.