Tongues Interpretation & Prophecy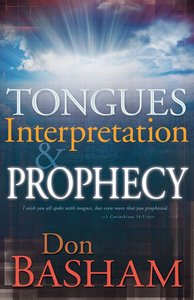 Wherefore, brethren, covet to prophesy, and forbid not to speak with tongues. 1 Corinthians 14:39. Is everyone supposed to speak in tongues? What are the differences among "new tongues," "other tongues," "kinds of tongues," and "unknown tongues"? Does the gift of prophecy always contain predictions about the future? Here are answers to the most often asked questions concerning tongues, interpretation, and prophecy. Some of the topics covered include...The difference between gifts and ministries. The difference between spiritual gifts and mankind's talents. The difference between praying in tongues and speaking in tongues. Modern examples of speaking in tongues. When to interpret tongues. The gift of prophecy. Don Basham also discusses why so many Spirit-baptized Christians experience only the gift of speaking in tongues and why they do not move on into other gifts.

- Publisher
You May Also Be Interested In
About "Tongues Interpretation & Prophecy"
Wherefore, brethren, covet to prophesy, and forbid not to speak with tongues. 1 Corinthians 14:39. Is everyone supposed to speak in tongues? What are the differences among "new tongues," "other tongues," "kinds of tongues," and "unknown tongues"? Does the gift of prophecy always contain predictions about the future? Here are answers to the most often asked questions concerning tongues, interpretation, and prophecy. Some of the topics covered include...The difference between gifts and ministries. The difference between spiritual gifts and mankind's talents. The difference between praying in tongues and speaking in tongues. Modern examples of speaking in tongues. When to interpret tongues. The gift of prophecy. Don Basham also discusses why so many Spirit-baptized Christians experience only the gift of speaking in tongues and why they do not move on into other gifts.
- Publisher


Meet the Author
Don Basham
Don Basham (1926-1989) was a pastor ordained in the Christian Church (Disciples of Christ), the editor of New Wine magazine and the author of more than a dozen books. He and his wife, Alice, had five children. SPANISH BIO: Don Basham (1926-1989) era un pastor ordenado en la iglesia cristiana (Disciples of Christ [Discipulos de Cristo]), director de la revista New Wine y autor de mas de una decena de libros. el y su esposa, Alice, tuvieron cinco hijos.