Torrey on Prayer (Pure Gold Classics Series)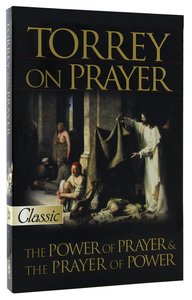 At the request of Dwight L. Moody, Torrey wrote a book late in the nineteenth century entitled How to Pray; and God used that book to stir many thousands to develop a regular prayer life. A great work began as a result of that book, spanning across Australia and New Zealand in 1902, and extending to England, Scotland, Ireland, and Wales, where it gave birth to much of the great Welsh Revival of 1904. Subsequently it went on to India and many other lands, resulting in the conversion of hundreds of thousands of souls. Torrey on Prayer is much fuller and more complete than How to Pray. It contains Torrey's updated version of his original book, and covers the whole subject of prayer, not only in its relation to revivals, but also in its relation to the various aspects of Christian life and activity.

- Publisher
You May Also Be Interested In
About "Torrey on Prayer (Pure Gold Classics Series)"
At the request of Dwight L. Moody, Torrey wrote a book late in the nineteenth century entitled How to Pray; and God used that book to stir many thousands to develop a regular prayer life. A great work began as a result of that book, spanning across Australia and New Zealand in 1902, and extending to England, Scotland, Ireland, and Wales, where it gave birth to much of the great Welsh Revival of 1904. Subsequently it went on to India and many other lands, resulting in the conversion of hundreds of thousands of souls. Torrey on Prayer is much fuller and more complete than How to Pray. It contains Torrey's updated version of his original book, and covers the whole subject of prayer, not only in its relation to revivals, but also in its relation to the various aspects of Christian life and activity.
- Publisher


Meet the Author
R A Torrey
R. A. Torrey (1856 - 1928) was an American evangelist and Bible scholar. A graduate of Yale College and Seminary, he also studied in German universities. He was ordained to the Congregational ministry in 1878, and became superintendent of the Congregational City Missionary Society of Minneapolis. He had a long association with D. L. Moody and was the first superintendent of the Moody Bible Institute (1889 - 1908). He wrote numerous devotional and theological books, including What the Bible Teaches, How to Work for Christ, and The Person and Work of the Holy Spirit.
Other Titles In The "Pure Gold Classics" Series View All