Touch of Compassion (#06 in Hannah Of Fort Bridger Series)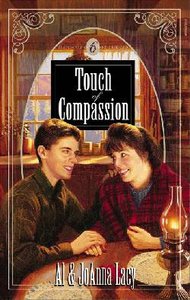 In southern Wyoming, an influenza epidemic sweeps in on the tails of a raging blizzard. An already tense situation between whites and the Cheyenne, Shoshoni, and Blackfoot Indian tribes is aggravated when the Indians begin attacking settlers and soldiers alike. Only the nearby Crow remain friendly, at one point even rescuing an army patrol under attack. When influenza and starvation threaten the Crow, Hannah and a young doctor come to their aid. The hungry settlers complain at first, but eventually come to admire and respect the example set by Hannah's Touch of Compassion.

- Publisher 320 Pages

- Publisher
You May Also Be Interested In
About "Touch of Compassion (#06 in Hannah Of Fort Bridger Series)"
In southern Wyoming, an influenza epidemic sweeps in on the tails of a raging blizzard. An already tense situation between whites and the Cheyenne, Shoshoni, and Blackfoot Indian tribes is aggravated when the Indians begin attacking settlers and soldiers alike. Only the nearby Crow remain friendly, at one point even rescuing an army patrol under attack. When influenza and starvation threaten the Crow, Hannah and a young doctor come to their aid. The hungry settlers complain at first, but eventually come to admire and respect the example set by Hannah's Touch of Compassion.
- Publisher

320 Pages
- Publisher


Meet the Author
Al Lacy
Al Lacy has written more than one hundred historical and western novels, including those in the Angel of Mercy, Battles of Destiny, and Journeys of the Stranger series. He and his wife, JoAnna, are coauthors of the Mail Order Bride, Hannah of Fort Bridger, Shadow of Liberty, Orphan Trains, Frontier Doctor, and Dreams of Gold series. The Lacys make their home in the Colorado Rockies.
Other Titles In The "Hannah Of Fort Bridger" Series View All