Tower of Babel: The Cultural Heritage of Our Ancestors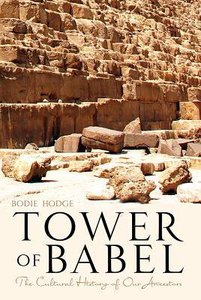 $

17.99

$

14.39
You Save: $3.60 (20%)
Paperback
Study the real-life event of the Tower of Babel and its impact today. In today's culture, the battle over Genesis 1-11 is raging on. One of the key battle points is the account of the Tower of Babel in Genesis 11. Many today, even within the church, attack this account as mythology or that it has little to no value in history and needs to be reinterpreted. Do their claims stand up? Not at all! Don't be deceived, come and learn what the world has tried to hide from you: Was the Tower of Babel real and what did it look like? Where does your ancestry come from? What about the great ages of the patriarchs and how does that relate to pagan ancestor worship? The world's religion of evolution and millions of years has done what they can to suppress ancient history and try to "rewrite it." Sadly, the next generation is being taught this evolutionary make-believe history (often called "revisionist history").

- Publisher
You May Also Be Interested In
About "Tower of Babel: The Cultural Heritage of Our Ancestors"
Study the real-life event of the Tower of Babel and its impact today. In today's culture, the battle over Genesis 1-11 is raging on. One of the key battle points is the account of the Tower of Babel in Genesis 11. Many today, even within the church, attack this account as mythology or that it has little to no value in history and needs to be reinterpreted. Do their claims stand up? Not at all! Don't be deceived, come and learn what the world has tried to hide from you: Was the Tower of Babel real and what did it look like? Where does your ancestry come from? What about the great ages of the patriarchs and how does that relate to pagan ancestor worship? The world's religion of evolution and millions of years has done what they can to suppress ancient history and try to "rewrite it." Sadly, the next generation is being taught this evolutionary make-believe history (often called "revisionist history").
- Publisher


Meet the Author
Bodie Hodge
Mr. Bodie Hodge attended Southern Illinois University at Carbondale and received a B.S. and M.S. in mechanical engineering. His specialty was a subset of mechanical engineering based in advanced materials processing, particularly starting powders. Currently, Bodie is a speaker, writer, and researcher for Answers in Genesis?USA. He is the author of The Fall of Satan and co-author of Dragons: Legends & Lore of Dinosaurs.