TPT Psalms: Poetry on Fire (Black Letter Edition)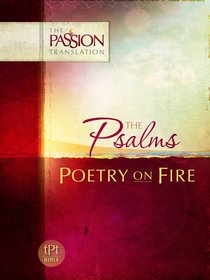 You May Also Be Interested In
About "TPT Psalms: Poetry on Fire (Black Letter Edition)"
Psalm 5:3 says, ³At each and every sunrise you will hear my voice as I prepare my sacrifice of prayer to you. Every morning I lay out the pieces of my life on the altar and wait for your fire to fall upon my heart. Every emotion of our hearts is reflected in the Psalms with words that express our deepest and strongest feelings. Sighing is turned to singing and trouble into triumph. The Psalms provide comfort and joy, leading us to the place where worship flows. When discouraged or downcast, we can take new strength from reading them. They charge our batteries and fill our sails. Their thunder stirs us, and sweet melodies move us into the sacred emotions of a heart on fire. Dark rain clouds of grief turn to bright rainbows of hope as we meditate on Davids soul subduing songs. The Psalms are clearly poetic. They are praises placed inside poetry that spill out of a fiery passionate heart. The Psalms free us to become emotional, passionate, sincere worshippers. These 150 poetic masterpieces give us an expression of faith and worship. They become a mirror to the heart of Gods people in our quest to experience His presence.
- Publisher
Meet the Author
Brian Simmons
Dr Brian Simmons has previously been involved in the translation project of the Kuna New Testament and has studied linguistics and Bible translation principles through New Tribes Mission. He and his family spent nearly eight years in the tropical rain forest of the Darien Province of Panama as a church planter, translator, and consultant. Afterward, he assisted in planting a thriving church in West Haven, CT Gateway Christian Fellowship. Dr Simmons now travels full time as a conference speaker and Bible teacher. Brian has been married for over forty-two years and boasts regularly of his three children and six grandchildren.

Customer Reviews For "TPT Psalms: Poetry on Fire (Black Letter Edition)"
Write Your Own Review
First love rekindled
By Fiona,

Nov 22 2018
The psalms is my favourite book and this version has made the psalms so personal. It is a refreshing read and your soul will be nourished. If you struggle with versions of the bible and wish to know God and His love 4 you in a deeper way, this book is a good place to start. Great for gifts too, young or old!
---
Beautiful
By Katie,

Jun 05 2018
This is a beautiful translation and a beautiful way to read the Psalms.
I like how this book is small enough to hold in one hand like a novel and how the text is not in columns (like a standard bible) but set out like a novel.
I would recommend this to others, particularly if they want a refreshment in reading the bible. 
---
Should be in your bible collection shelf
By Aileen,

Apr 18 2018
I always love psalms. It is a book in the bible where I can get comfort and joy especially in the time of trials and hardship. It is a book that full of reminder of God's goodness. But this passion translation is very special. Not only it is easy to understand but also speaks directly to your heart. It is a compulsory book for your life. 
---
Beautiful
By Victoria,

Jun 06 2016
I love the Psalms, and the Passion Translation just makes them all the more beautiful. The words come alive and have so touched and impacted me. I so enjoyed it and can't recommend it enough!
---
WOW!
By Mae,

Jun 11 2015
What an amazing translation this is! It really provides a different outlook on the bible!
{{review.title}}
By {{review.author.name}},

{{review.reviewCreatedDate | date:'MMM dd yyyy'}}

{{reviewdescription}}
{{review.text}}
---