TPT Psalms & Proverbs, the (Black Letter Edition) (2 In 1 Collection With Devotions)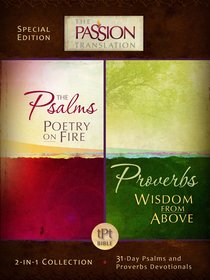 You May Also Be Interested In
About "TPT Psalms & Proverbs, the (Black Letter Edition) (2 In 1 Collection With Devotions)"
Every emotion of the heart is reflected in the Psalms with words that express our deepest and strongest feelings. They free us to become emotional, passionate, sincere worshippers, giving us an expression for faith and worship. The Passion Translation presents these 150 poetic masterpieces in modern English to convey the depth of our longings and fears, joys and celebration, becoming a mirror to the heart of God's people in our quest to experience God's presence.
Lord, you know all my desires and deepest longings. My tears are liquid words and you can read them all. -Psalm 38:9, TPT
The book of Proverbs is packed with secrets of wisdom that awaken our hearts! We can expect a download of heavenly insights into our destinies, relationships, careers, finances, and every other aspect of our lives. The Passion Translation unfolds the meaning of these proverbs in a way that connects the heart of God to your life. A greater understanding awaits us as we read Proverbs: Wisdom from Above.
Within these sayings will be found the revelation of wisdom. Use them as keys to unlock the treasures of true knowledge. -Proverbs 1:2, TPT
- Publisher
Meet the Author
Dr Brian Simmons
Dr Brian Simmons has previously been involved in the translation project of the Kuna New Testament and has studied linguistics and Bible translation principles through New Tribes Mission. He and his family spent nearly eight years in the tropical rain forest of the Darien Province of Panama as a church planter, translator, and consultant. Afterward, he assisted in planting a thriving church in West Haven, CT Gateway Christian Fellowship. Dr Simmons now travels full time as a conference speaker and Bible teacher. Brian has been married for over forty-two years and boasts regularly of his three children and six grandchildren.

Customer Reviews For "TPT Psalms & Proverbs, the (Black Letter Edition) (2 In 1 Collection With Devotions)"
Write Your Own Review
Value!
By Tikvah08,

Jan 25 2017
This 2 in 1 is great - individually it costs 41.98 at today's prices. Such a breath of fresh air reading this translation! I would vouch for it's accuracy for study, or preach from it, but definitely would be a reference to bring some texts to life. 'Passion' is the right word.
---
A fresh perspective on familiar words
By Charis,

Nov 29 2016
This translation is fantastic. It is contemporary whilst being respectful of the original text. It is powerful, applicable and relevant. I can't wait till the whole Bible is translated. It is a beautiful read. 
---
Beautiful, passionate relationship
By Hannah,

Nov 17 2016
I was a bit dubious when yet another Bible translation came out given there are already so many around but I'm really enjoying reading the Psalms in particular in this Passion Translation. It's the same psalms I've read and heard all my life and yet somehow different. More personal. There's a love story in every one. The Hero, come to save the day. The King surrounding and protecting his beloved. I still love my 'standard' translations but I am really finding myself captivated by the passionate relationship between the psalmist and God in this version of the psalms. 

---
A Must Read
By Victoria,

Nov 11 2016
I can't recommend this translation enough. It has truly changed my life. The bible has never come so alive. It really is a must for all Christians!
---
Fall in Love again with the Psalms
By GCC,

Sep 28 2015
I purchased the Passion Translation of the Psalms and I have fallen in love with them all over again. This translation brings the Psalms alive and rekindles passion and fire in the spirit.
A must addition to any one's Biblical library!!!!
{{review.title}}
By {{review.author.name}},

{{review.reviewCreatedDate | date:'MMM dd yyyy'}}

{{reviewdescription}}
{{review.text}}
---