Traces of Guilt (#01 in Evie Blackwell Cold Case Series)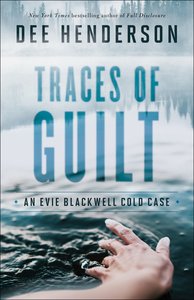 :A Riveting Cold-Case Mystery from Dee Henderson

Evie Blackwell loves her life as an Illinois State Police Detective ... mostly. She's very skilled at investigations and has steadily moved up through the ranks. She would like to find Mr. Right, but she has a hard time imagining how marriage could work, considering the demands of her job.

Gabriel Thane is a lifetime resident of Carin County and now its sheriff, a job he loves. Gabe is committed to upholding the law and cares deeply for the residents he's sworn to protect. He too would like to find a lifetime companion, a marriage like his parents have... .

When Evie arrives in Carin, Illinois, it's to help launch a new task force dedicated to reexamining unsolved crimes across the state. Spearheading this trial run, Evie will work with the sheriff's department on a couple of its most troubling missing-persons cases. As she reexamines old evidence to pull out a few tenuous new leads, she unearths a surprising connection ... possibly to a third cold case. Evie's determined to solve the cases before she leaves Carin County, and Sheriff Thane, along with his family, will be key to those answers.

- Publisher
You May Also Be Interested In
About "Traces of Guilt (#01 in Evie Blackwell Cold Case Series)"
:A Riveting Cold-Case Mystery from Dee Henderson

Evie Blackwell loves her life as an Illinois State Police Detective ... mostly. She's very skilled at investigations and has steadily moved up through the ranks. She would like to find Mr. Right, but she has a hard time imagining how marriage could work, considering the demands of her job.

Gabriel Thane is a lifetime resident of Carin County and now its sheriff, a job he loves. Gabe is committed to upholding the law and cares deeply for the residents he's sworn to protect. He too would like to find a lifetime companion, a marriage like his parents have... .

When Evie arrives in Carin, Illinois, it's to help launch a new task force dedicated to reexamining unsolved crimes across the state. Spearheading this trial run, Evie will work with the sheriff's department on a couple of its most troubling missing-persons cases. As she reexamines old evidence to pull out a few tenuous new leads, she unearths a surprising connection ... possibly to a third cold case. Evie's determined to solve the cases before she leaves Carin County, and Sheriff Thane, along with his family, will be key to those answers.
- Publisher


Meet the Author
Dee Henderson
Pastor's daughter Dee Henderson is a lifelong resident of Illinois, USA, and currently resides in Springfield. She believes that marketing books should be about the stories rather than the writer, so she keeps a low profile compared to many authors. Her background is in mathematics and computing science (B.Sc 1988) and she had a high paying job as an engineer before she moved into full-time writing in 1996. Her technical expertise has given her an unusually keen insight into the structural aspects of storytelling. The results are plain to see; since 1999, Dee has produced two bestselling fiction series - the acclaimed O'Malley series and Uncommon Heroes - as well as eleven stand-alone titles.

Dee's books brilliantly mix suspense and romance, and her characters undergo varied and interesting faith journeys that are integrated skillfully into the storylines. Dee's work has won or been nominated for several prestigious industry awards including the RWA's RITA Award, the Christy Award, the ECPA Gold Medallion, the Holt Medallion, the National Readers' Choice Award, and the Golden Quill.
Media
Customer Reviews For "Traces of Guilt (#01 in Evie Blackwell Cold Case Series)"
Write Your Own Review
Suspenseful
By Hannah,

May 03 2017
Evie really is the image of a strong independent woman who is determined to have a good image to those around us. 
She is determined to show others that despite being a woman she is capable of standing strong in a mans world. 
At first she struggles to solve any case, but as time progresses and she learns to accept some help, the dominos start falling
---
Intriguing!!
By Briana ,

May 03 2017
I loved this book! I loved how Evie was such a strong woman and how Ann was investing in her. It shows how important it is to invest time in others and mentoring those we can. 
The crime was truly suspenseful and kept me hanging on every word 
---
Awesome
By Shayne Hamilton ,

Apr 09 2017
Dee henderson never lets you down . Loved the story line and characters. Ordered on line arrived 2 days later . Fantastic 
---
Another Winner From Dee Henderson
By Kimberley,

Sep 23 2016
Dee Henderson always writes great books and this one didn't disappoint. I always love how her characters interact with the characters from her other novels. This is a book I would definitely recommend if you love mystery and suspense. It also includes some unexpected twists and turns.
---
Perfect!
By Tracey,

Aug 03 2016
Everyone loves a good Dee Henderson story and this is no exception! 
I love the new approach that Dee took to her writing style. The romance was really subtle and there were re-established relationships which meant that the romance side was much more realistic and there was no wedding happening which was a nice surprise. The crime part of it was intriguing as well. Rather than it be simply one crime that they had to solve, there were a string of several crimes which meant that there was a lot going on at once and a lot of things to follow, yet the details were all there and Dee still wrote a stunning piece of literature. Definitely worth reading. 
{{review.title}}
By {{review.author.name}},

{{review.reviewCreatedDate | date:'MMM dd yyyy'}}

{{reviewdescription}}
{{review.text}}
---
Other Titles In The "Evie Blackwell Cold Case Series" Series