Transformation Through Christian Emotion-Focused Therapy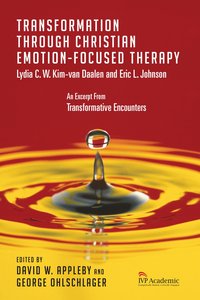 What would it mean for Christian counseling and pastoral care to take seriously the idea that God intervenes in the world? What would it look like for therapists and pastors to see themselves as opening the door to a miraculous divine encounter? How would counseling change if the intervention of God was not merely a theoretical idea but a lived experience?This essay by Lydia C. W. Kim-van Daalen and Eric L. Johnson was originally published as chapter 10 in the book Transformative Encounters, edited by David W. Appleby and George Ohlschlager. Kim-van Daalen and Johnson highlight the power and importance of emotional experience, discuss why some Christians are skeptical of the emotions, propose a model of Christian emotion-focused therapy and offer a case study, along with reference and other recommended resources.Like the other essays in the full-length volume, Kim-van Daalen and Johnson build on Gary Collins's classic work, The Rebuilding of Psychology, to explore what a God-centered model of Christian counseling or pastoral care would look like. They share the conviction that God is able to bring about lasting psycho-spiritual change here and now. And they seek to encourage and aid counselors, pastors, church staff, clinical practitioners, academics and students in developing this kind of God-encountering, Christ-centered ministry of miraculous change.

- Publisher
You May Also Be Interested In
About "Transformation Through Christian Emotion-Focused Therapy"
What would it mean for Christian counseling and pastoral care to take seriously the idea that God intervenes in the world? What would it look like for therapists and pastors to see themselves as opening the door to a miraculous divine encounter? How would counseling change if the intervention of God was not merely a theoretical idea but a lived experience?This essay by Lydia C. W. Kim-van Daalen and Eric L. Johnson was originally published as chapter 10 in the book Transformative Encounters, edited by David W. Appleby and George Ohlschlager. Kim-van Daalen and Johnson highlight the power and importance of emotional experience, discuss why some Christians are skeptical of the emotions, propose a model of Christian emotion-focused therapy and offer a case study, along with reference and other recommended resources.Like the other essays in the full-length volume, Kim-van Daalen and Johnson build on Gary Collins's classic work, The Rebuilding of Psychology, to explore what a God-centered model of Christian counseling or pastoral care would look like. They share the conviction that God is able to bring about lasting psycho-spiritual change here and now. And they seek to encourage and aid counselors, pastors, church staff, clinical practitioners, academics and students in developing this kind of God-encountering, Christ-centered ministry of miraculous change.
- Publisher


Meet the Authors
George W Ohlschlager
George Ohlschlager, J.D., LCSW, is executive director and cofounder of the American Board of Christian Counselors. He is director of policy and professional affairs for the AACC and is senior editor and writer of Christian Counseling Today magazine. He is the author of a number of books on counselling practice such as Caring for People God's Way, Competent Christian Counselling, Sexual Misconduct in Counseling and Ministry (Contemporary Christian Counseling) and New Christian Counselor's Handbook: Practicing Compassionate Soul Care.