Translating Truth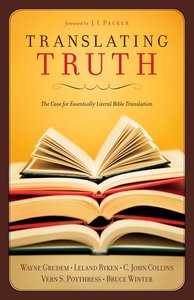 In an age when there is a wide choice of English Bible translations, the issues involved in Bible translating are steadily gaining interest. Readers often wonder what separates one Bible version from another.

The contributors to this book argue that there are significant differences between literal translations and the alternatives. The task of those who employ an essentially literal Bible translation philosophy is to produce a translation that remains faithful to the original languages, preserving as much of the original form and meaning while still communicating effectively and clearly in the receptors' languages.

TRANSLATING TRUTH advocates essentially literal Bible translation and purposes to foster an edifying dialogue concerning translation philosophy. It addresses what constitutes "good" translation, common myths about word-for-word translations and the importance of preserving the authenticity of the Bible text. The essays in this book offer clear and enlightening insights into the foundational ideas of essentially literal Bible translation.


- Publisher The task of those who employ an essentially literal Bible translation philosophy is to produce a translation that remains faithful to the original languages, preserving as much of the original form and meaning as possible while still communicating effectively and clearly in the receptor language. The contributors of

- Publisher
You May Also Be Interested In
About "Translating Truth"
In an age when there is a wide choice of English Bible translations, the issues involved in Bible translating are steadily gaining interest. Readers often wonder what separates one Bible version from another.

The contributors to this book argue that there are significant differences between literal translations and the alternatives. The task of those who employ an essentially literal Bible translation philosophy is to produce a translation that remains faithful to the original languages, preserving as much of the original form and meaning while still communicating effectively and clearly in the receptors' languages.

TRANSLATING TRUTH advocates essentially literal Bible translation and purposes to foster an edifying dialogue concerning translation philosophy. It addresses what constitutes "good" translation, common myths about word-for-word translations and the importance of preserving the authenticity of the Bible text. The essays in this book offer clear and enlightening insights into the foundational ideas of essentially literal Bible translation.

- Publisher

The task of those who employ an essentially literal Bible translation philosophy is to produce a translation that remains faithful to the original languages, preserving as much of the original form and meaning as possible while still communicating effectively and clearly in the receptor language. The contributors of
- Publisher


Meet the Authors
Wayne Grudem
Wayne A. Grudem (Ph.D., University of Cambridge) is research professor of Bible and theology at Phoenix Seminary, Scottsdale, Arizona. Previously he taught for twenty years at Trinity Evangelical Divinity School, Deerfield, Illinois, and is a past president of the Evangelical Theological Society. He is the author of a number of books including The Gift of Prophecy in the New Testament and Today, The First Epistle of Peter (Tyndale New Testament Commentaries) and Evangelical Feminism and Biblical Truth, Systematic Theology and editor of Are Miraculous Gifts for Today? Four Views. .
Koorong -Editorial Review.
Vern S Poythress
Dr. Vern S. Poythress (Ph.D., Harvard University; DTh., University of Stellenboch) is professor of New Testament interpretation at Westminster Theological Seminary. In addition to numerous journal articles and essays, he is author of many books including Symphonic Theology; Understanding Dispensationalists; God-Centered Biblical Interpretation; The Returning King; and The Gender-Neutral Bible Controversy.
Leland Ryken
Leland Ryken (Ph.D., University of Oregon) is Clyde S. Kilby Professor of English at Wheaton College in Wheaton, Illinois. He is the author of more than one hundred published articles and essays, and he has written, edited or contributed to (so far) twenty-five books, including The Word of God in English: Criteria for Excellence in Bible Translation (Crossway), The Christian Imagination: The Practice of Faith in Literature and Writing (Shaw), Dictionary of Biblical Imagery (InterVarsity Press), The Discerning Reader: Christian Perspectives on Literature and Theory (Baker) and A Complete Literary Guide to the Bible (Zondervan).
His most recent books have been on C.S.Lewis' works A Reader's Guide Through the Wardrobe and A Reader's Guide to Caspian: A Journey into C. S. Lewis's Narnia and Understanding English Bible Translation: The Case for an Essentially Literal Approach. He is a frequent speaker at the Evangelical Theological Society and served as literary stylist for The Holy Bible, English Standard Version.
Koorong -Editorial Review.
Bruce W Winter
Rev. Dr. Bruce Winter (Ph.D., Macquarie Universuty) was formerly Warden of Tyndle House, Cambridge, he is now the Principal of Queensland Theological College, and Director of the Institute for Early Christianity in the Graeco-Roman World, Emmanuel College, University of Queensland, Senior Research Fellow,Macquarie University, Sydney and Visiting Scholar, St Edmunds College,University of Cambridge 2007-2111.
Dr Winter is the author of Roman Wives, Roman Widows: The Appearance of new' Roman womenand the Pauline Communities (Eerdmans, 2003); 1 Corinthians >(Cambridge Greek New Testament Texts and Commentaries series,(2010); 2 Corinthians (Zondervan Exegetical Commentary) and After Paul left Corinth: The Influence of Secular Ethics and Social Change (2001,Eerdmans)
Koorong -Editorial Review.
C John Collins
C John. Collins (Ph.D., School of Archaeology and Oriental Studies, University of Liverpool, Liverpool, England)is professor of Old Testament at Covenant theological Seminary in St. Louis, and one of this generation's most skilled Bible exegetes.


He is the author of Did Adam and Eve Really Exist?: Who They Were and Why You Should Care (Wheaton, IL: Crossway, 2011); Genesis 1-4: A Linguistic, Literary, and Theological Commentary (Phillipsburg, NJ: P&R Publishing, 2006); The God of Miracles: An Exegetical Examination of Godfds Action in the World (Wheaton, IL: Crossway, 2000; Leicester: Inter-Varsity, 2001) and Science and Faith: Friends or Foes? (Wheaton, IL: Crossway, 2003. Russian translation, 2005)
Koorong -Editorial Review.
Customer Reviews For "Translating Truth"
Write Your Own Review
Which translation do you chose?
By Dan,

Oct 31 2013
I wondered for a long time why there are many translations of the Bible, and some seem so different to others.  My assumption was that they were all good, and you could read whichever you wanted to, but I was still confused as to why they weren't all the same, since there was only one original version of each book of the Bible.  This book was a massive help in showing why people translate the Bible in different ways from its original language.

The book distinguishes Bible translations based on how literal they are, ranging from those that translate word for word from the original language, to those that attempt to translate the author's meaning, rather than the words they actually wrote.  After presenting the differences, the authors present the case for essentially literal translations over the dynamic translations, putting forth a comprehensive arguement as to why we should translate exactly the words the authors wrote, rather than what meaining we think the authors were trying to say.

Overall an excellent overview of Biblical translations, making the correct arguement that we should present God's Word as close as we can to what he actually says, rather than our best interpretation of what he is saying.  There may be cases where dynamic translations are preferable, such as when helping new Christians understand difficult verses, but besides these possible exceptions, we should translate God's Word as he has actually written it .
{{review.title}}
By {{review.author.name}},

{{review.reviewCreatedDate | date:'MMM dd yyyy'}}

{{reviewdescription}}
{{review.text}}
---