Trapped (#02 in Private Justice Series)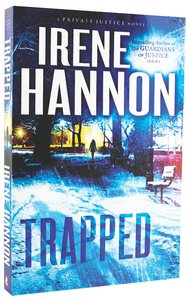 When librarian Laura Griffin's sixteen-year-old sister disappears on a frigid February day, leaving only a brief note behind, Laura resolves to do whatever it takes to track down the runaway teen. That includes recruiting ATF agent turned PI James "Dev" Devlin to help. But the deeper he digs, the more he begins to suspect that something sinister is at work in the girl's disappearance. And the closer he gets to uncovering the truth, the clearer it becomes that the situation isn't just dangerous--it's deadly.

Chilling and at times terrifying, Trapped is the latest thrilling read from Irene Hannon, the queen of romantic suspense. Hannon outdoes herself with this fast-paced tale of fear, deception, and just the right dose of romance.

- Publisher
You May Also Be Interested In
About "Trapped (#02 in Private Justice Series)"
When librarian Laura Griffin's sixteen-year-old sister disappears on a frigid February day, leaving only a brief note behind, Laura resolves to do whatever it takes to track down the runaway teen. That includes recruiting ATF agent turned PI James "Dev" Devlin to help. But the deeper he digs, the more he begins to suspect that something sinister is at work in the girl's disappearance. And the closer he gets to uncovering the truth, the clearer it becomes that the situation isn't just dangerous--it's deadly.

Chilling and at times terrifying, Trapped is the latest thrilling read from Irene Hannon, the queen of romantic suspense. Hannon outdoes herself with this fast-paced tale of fear, deception, and just the right dose of romance.
- Publisher


Meet the Author
Irene Hannon
Irene Hannon is the bestselling and award-winning author of more than fifty novels, including Buried Secrets and Thin Ice, as well as the Heroes of Quantico, Guardians of Justice, and Private Justice series. In addition to many other honors, she is a seven-time finalist for and three-time winner of the prestigious RITA Award from Romance Writers of America. She is also a member of RWA's elite Hall of Fame. Learn more at www.irenehannon.
Customer Reviews For "Trapped (#02 in Private Justice Series)"
Write Your Own Review
Loved it!
By Alyce,

Nov 29 2015
This book is slow to start but the momentum continually builds and it was quite hard to put down by the end. 
The author seemed to spend more time developing the character of he villain in this book. Reading so much of the story from his point of view made him more believable and quite unnerving. This adds to the suspense and pace of the story, though can detract from the romance aspect as not as much time is devoted to it  - it seems to almost have been added as a side story. 
I enjoyed this book more than the first in the series. Worth reading for anyone interested more in the suspense than the romance. 
---
Great book!
By Anne ,

Nov 20 2013
I enjoyed this book... But it was also a bit sad and depressing. Sure in the end everyone lives happily ever after, but some of the scenes that are described so well have too much detail. Again, I likes this book, but it was not the best I have read. 
---
Slow start and excellent finish
By Iola,

Oct 02 2013
I found the first half of Trapped a real struggle to engage with. I didn't connect with any of the main characters-Laura came across as boring (and not because she's a librarian. I thought she was boring before that even came up). Dev seemed to be more interested in checking out Laura's legs than thinking about how to find Darcy (the teens I know don't phone their friends. They text, email, Facebook and FaceTime them, yet all Dev did was check Darcy's call records). Darcy, while self-absorbed and unappreciative, at least seemed to think and act like a typical teenage girl (self-absorbed and unappreciative). I didn't like her, but at least I could understand her. Overall, while I finished Trapped, the first half was a chore and I don't like it when reading becomes a chore. The second half was fast-paced and exciting, but it was a real struggle to get there. I almost gave up, and that doesn't happen often. When I want to give up but persevere I usually find the second half even more boring than the first, which makes Trapped the exception that proves my rule. Thanks to Revell and NetGalley for providing a free ebook for review. 
---
Suspense
By Jessica R. Wakefield,

Oct 01 2013
I've been waiting for this book since Vanished came out. Nine months is a long time! My first thoughts after finishing the book is that I was creeped out by the villain - not necessarily a bad thing, but this guy was not just crazy, but creepy and it made some of his scene a little hard for me to read. Some people will find the subject matter (kidnapping - especially in the form taken in this book) hard to read at times. However, this character did add to the suspense of the book and for me that is a good thing.

I think this book is a little different from her other ones. We knew who the bad guy was a lot earlier, so it was a game of waiting and wondering when and how they were going to catch him - if at all at some points. I liked this new angle actually, it left a bit more time for character development. This is Darcy's story as much as it is Laura and Dev's. I felt for her, was scared for her and worried for her. I felt for Laura as she waited to hear word from her sister.

Laura and Devlin make a good but understated couple. Restrained chemistry marked much of their interactions, but it was easy to see how much they liked each other and were willing to wait the case out to pursue a relationship. Devlin as a hero didn't grab my attention - it might be his red hair, but he was guarded for much of the book and even when he did let Laura in behind his walls, it still didn't grab me emotionally. So, besides their mutual attraction, Dev could have been replaced by a different hero it wouldn't have changed the outcome of the story.

In terms of spiritual things, this is also Hannon's most understated regarding Christian themes. This is highlighted by how little the characters discuss their faith or lack of. I liked this. I knew the characters believed in God, with some struggling with this, but overall it was not discussed in lots of detail. I'd rather make my own judgments on their faith journey that have it spelled out for me.

So overall another great book! Looking forward to many more successful years!
{{review.title}}
By {{review.author.name}},

{{review.reviewCreatedDate | date:'MMM dd yyyy'}}

{{reviewdescription}}
{{review.text}}
---
Other Titles In The "Private Justice Series" Series