Trauma Plan (#01 in Grace Medical Series)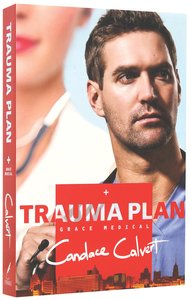 Sidelined by injuries from a vicious assault, chaplain Riley Hale is determined to return to her former duties as an ER nurse. But how can she show she's competent when the hospital won't let her attempt even simple tasks? Determined to prove herself, Riley volunteers at a controversial urban free clinic despite her fears about the maverick doctor in charge.

Dr. Jack Travis defends his clinic like he's commander of the Alamo. He'll fight the community's efforts to shut its doors, even if he must use Riley Hale's influential family name to make it happen.

As Riley strives to regain her skills, Jack finds that she shares his compassion - and stirs his lonely heart. Riley senses that beneath Jack's rough exterior is a man she can believe in. But when clinic protests escalate and questions surface about his past, Jack goes into battle mode and Riley wonders if it's dangerous to trust him with her heart.



- Publisher
You May Also Be Interested In
About "Trauma Plan (#01 in Grace Medical Series)"
Sidelined by injuries from a vicious assault, chaplain Riley Hale is determined to return to her former duties as an ER nurse. But how can she show she's competent when the hospital won't let her attempt even simple tasks? Determined to prove herself, Riley volunteers at a controversial urban free clinic despite her fears about the maverick doctor in charge.

Dr. Jack Travis defends his clinic like he's commander of the Alamo. He'll fight the community's efforts to shut its doors, even if he must use Riley Hale's influential family name to make it happen.

As Riley strives to regain her skills, Jack finds that she shares his compassion - and stirs his lonely heart. Riley senses that beneath Jack's rough exterior is a man she can believe in. But when clinic protests escalate and questions surface about his past, Jack goes into battle mode and Riley wonders if it's dangerous to trust him with her heart.


- Publisher


Meet the Author
Candace Calvert
Candace Calvert is an ER nurse who landed on the "other side of the stethoscope" after the equestrian accident that broke her neck and convinced her that love, laughter--and faith--are the very best medicines of all. The inspirational account of her accident and recovery appears in Chicken Soup for the Nurse's Soul and launched her writing career.


The author of a madcap cruise mystery series in the secular market, Candace now eagerly follows her heart to write Christian fiction for Tyndale House. Her new medical drama series offers readers a chance to "scrub in" on the exciting world of emergency medicine, along with charismatic characters, pulse-pounding action, tender romance, humor, suspenseand a soul-soothing prescription for hope.
Some of her titles include Disaster Status; Code Triage and Critical Care Wife, mother, and very proud grandmother, Candace makes her home in northern California. Please visit her Web site at www.candacecalvert.com.
Customer Reviews For "Trauma Plan (#01 in Grace Medical Series)"
Write Your Own Review
Fantastic Reading
By Margot,

Aug 13 2014
I so enjoyed this book and cant wait to read the next in the Grace Medical Series by Candace Calvert. It's jam-packed with everything a reader could hope for - suspense, drama, romance and lives changed by a loving God. So many story lines expertly intertwined until they finally come together in the end - and suddenly it's all aver and you so wish there was more - and since this is only Book 1 in the series, there is more. It was great to read more of Riley Hale - a side character from the Mercy Hospital Series and watch her come to fully realize and trust God's plan for her life. I also loved meeting Jack Travis - a troubled hero, and watch him soften as God worked His plan out in his life.
All in all, a fantastic read which I recommend to all.
---
Brilliant
By Audrey,

Apr 29 2014
Brilliant, brilliant, brilliant! I absolutely loved this book. I don't even know where to start. It was just so good....toe curling, can't wait for a moment to keep reading, finished in a day good. Wish I can find more books like this one.
---
No hardship here
By Jessica R. Wakefield,

Jun 02 2013
I loved, loved, loved this book!!! I was laughing, smiling, giggling and crying throughout this book. I was also falling majorly for Dr. Jack Travis! My, what a presence this character has! At a few points in the book I was like: Can I please marry this guy?!

Now don't get me wrong, Jack's not some New Age Sensitive Guy, one might argue that he's doesn't have a sensitivity bone in his body. Aggression, passion, action and a long held anger at God and at himself drives him to push hard at every aspect of life. With Jack, there's not much room for compromise - it's his way or no one's really. But that's what attractive about him - his passion for life and his unwillingness to compromise. Sure, it's not healthy and the reader knows that Jack, along with Riley is on a journey towards God, healing and each other but this is one journey that's just awesome to follow!

My heart went out to Riley as she struggled to regain her normal life after a vicious attack. As she struggled to accept that God might have a different, better path for her. As she fought her attraction to Jack, got to see different layers of him and she couldn't help but fall for him with his brashness and all. Watching them figure out their attraction to each other was just magical! Some of the best scenes in the book are when these two are together, hanging out, trying to keep from falling too hard, too fast.

This book is filled with some very realistic characters (like Critical Care as well). People do dumb things in this book, have skewed ideas about God, themselves, each other - but don't we all? Step out your front door and the world is full of hurting people, hurting each other in order to avoid sorting out their own mess, but it's real.

Thank you Candace for giving your readers real characters without making the book so heavy in emotional content that readers would struggle with it. Instead you have infused the book with enough romance, action and heartbreak to keep reader's enthralled and captivated till the very last page, whilst still involving them emotionally!

A couple more things:

I kept picturing Keanu Reeves in the first few chapters...why you might ask? Well the name Jack Travis kept bothering me. Then it hit me. The name of Keanu Reeves' character in the movie Speed is Jack Traven...close enough to Jack Travis to have me rollicking down memory lane. It's funny though, cause Jack Travis reminds me a bit like Jack Traven from the movie with both his words and actions.

Finally, I once said if I could live in a fictional world, I'd marry Grady McKenzie from Sweetwater Gap, whilst that is still true, I think Dr. Jack Travis has stolen my heart...
{{review.title}}
By {{review.author.name}},

{{review.reviewCreatedDate | date:'MMM dd yyyy'}}

{{reviewdescription}}
{{review.text}}
---
Other Titles In The "Grace Medical Series" Series View All