Trauma Plan / Rescue Team / Life Support (Grace Medical Series)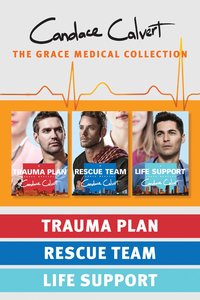 This collection bundles all three novels from author Candace Calvert's exciting Grace Medical series into one e-book for a great value!

Trauma Plan
Sidelined by injuries from a vicious assault, chaplain Riley Hale is determined to return to her former duties as an ER nurse. But how can she show she's competent when the hospital won't let her attempt even simple tasks? Determined to prove herself, Riley volunteers at a controversial urban free clinic despite her fears about the maverick doctor in charge.

Dr. Jack Travis defends his clinic like he's commander of the Alamo. He'll fight the community's efforts to shut its doors, even if he must use Riley Hale's influential family name to make it happen.

As Riley strives to regain her skills, Jack finds that she shares his compassion-and stirs his lonely heart. Riley senses that beneath Jack's rough exterior is a man she can believe in. But when clinic protests escalate and questions surface about his past, Jack goes into battle mode and Riley wonders if it's dangerous to trust him with her heart.

Rescue Team
Tired of running from her past, nurse Kate Callison intends to become Austin Grace Hospital's permanent ER director and make Texas her home. Despite staff friction, she's moving ahead. Then unthinkable tragedy wraps the ER in crime tape, bringing swarms of media, legal chaos-and a search-and-rescue hero who seems determined to meddle in her life.

For Wes Tanner, nothing beats finding someone who's lost; he's known that helpless terror firsthand. So he'll expand his team's lifeline of hope: K9 tracking, swift water rescue, even horse-mounted searches. He's ready for anything-except Austin Grace's prickly and dismissive ER director.

As Kate and Wes discover more about each other, new respect becomes something deeper. Kate wonders if her heart might have finally found a home. Then an unsolved missing persons case-and a startling new one-become catalysts that threaten the loss of all she and Wes have found.

Life Support
Nurse Lauren Barclay put her life on hold to keep a watchful eye on her troubled sister. It's why she's back in Houston. But that means confronting the brooding physician assistant who caused painful turmoil in her family-and left Lauren with memories her heart can't forget.

PA and single parent Elijah Landry is no stranger to stormy relationships, including one with his father, who is threatening him with a restraining order. It won't stop Eli from protecting his disabled brother-or from making peace with Lauren. He wants that and so much more.

But as Lauren and Eli draw closer, a powerful hurricane roars toward Houston. Survival instincts take priority and everything changes. Can hope weather the storm?

- Publisher
You May Also Be Interested In
About "Trauma Plan / Rescue Team / Life Support (Grace Medical Series)"
This collection bundles all three novels from author Candace Calvert's exciting Grace Medical series into one e-book for a great value!

Trauma Plan
Sidelined by injuries from a vicious assault, chaplain Riley Hale is determined to return to her former duties as an ER nurse. But how can she show she's competent when the hospital won't let her attempt even simple tasks? Determined to prove herself, Riley volunteers at a controversial urban free clinic despite her fears about the maverick doctor in charge.

Dr. Jack Travis defends his clinic like he's commander of the Alamo. He'll fight the community's efforts to shut its doors, even if he must use Riley Hale's influential family name to make it happen.

As Riley strives to regain her skills, Jack finds that she shares his compassion-and stirs his lonely heart. Riley senses that beneath Jack's rough exterior is a man she can believe in. But when clinic protests escalate and questions surface about his past, Jack goes into battle mode and Riley wonders if it's dangerous to trust him with her heart.

Rescue Team
Tired of running from her past, nurse Kate Callison intends to become Austin Grace Hospital's permanent ER director and make Texas her home. Despite staff friction, she's moving ahead. Then unthinkable tragedy wraps the ER in crime tape, bringing swarms of media, legal chaos-and a search-and-rescue hero who seems determined to meddle in her life.

For Wes Tanner, nothing beats finding someone who's lost; he's known that helpless terror firsthand. So he'll expand his team's lifeline of hope: K9 tracking, swift water rescue, even horse-mounted searches. He's ready for anything-except Austin Grace's prickly and dismissive ER director.

As Kate and Wes discover more about each other, new respect becomes something deeper. Kate wonders if her heart might have finally found a home. Then an unsolved missing persons case-and a startling new one-become catalysts that threaten the loss of all she and Wes have found.

Life Support
Nurse Lauren Barclay put her life on hold to keep a watchful eye on her troubled sister. It's why she's back in Houston. But that means confronting the brooding physician assistant who caused painful turmoil in her family-and left Lauren with memories her heart can't forget.

PA and single parent Elijah Landry is no stranger to stormy relationships, including one with his father, who is threatening him with a restraining order. It won't stop Eli from protecting his disabled brother-or from making peace with Lauren. He wants that and so much more.

But as Lauren and Eli draw closer, a powerful hurricane roars toward Houston. Survival instincts take priority and everything changes. Can hope weather the storm?
- Publisher


Meet the Author
Candace Calvert
Candace Calvert is an ER nurse who landed on the "other side of the stethoscope" after the equestrian accident that broke her neck and convinced her that love, laughter--and faith--are the very best medicines of all. The inspirational account of her accident and recovery appears in Chicken Soup for the Nurse's Soul and launched her writing career.


The author of a madcap cruise mystery series in the secular market, Candace now eagerly follows her heart to write Christian fiction for Tyndale House. Her new medical drama series offers readers a chance to "scrub in" on the exciting world of emergency medicine, along with charismatic characters, pulse-pounding action, tender romance, humor, suspenseand a soul-soothing prescription for hope.
Some of her titles include Disaster Status; Code Triage and Critical Care Wife, mother, and very proud grandmother, Candace makes her home in northern California. Please visit her Web site at www.candacecalvert.com.
Other Titles In The "Grace Medical Series" Series View All