Traveling Through Troubled Times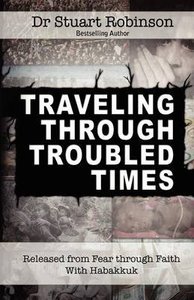 Released from Fear through Faith With Habakkuk. In summarizing a wide and sweeping range of global problems confronting our modern world, this book tackles some of the personal challenges these problems present and directs us to a man and his message for answers; a message that will assist us to live victoriously. This book reassures us that we are not the first to face the possibility of oblivion. Millenia ago, in a small far-off land bordering the eastern Mediterranean, a very similiar situation arose. We have a detailed record of one man's struggle with his own mortality in the face of impending genocide that was about to engulf his own nation. His name was Habakkuk. His is an enduring message that can help in our own journey, as we continue Traveling Through Troubled Times. Stuart Robinson brings not only his scholarship to this excellent study, but is clearly informed by his unique experience as someone who has seen the pride and selfishness of the West through the eyes of someone living intimately with some of the world's poorest people.

- Publisher
You May Also Be Interested In
About "Traveling Through Troubled Times"
Released from Fear through Faith With Habakkuk. In summarizing a wide and sweeping range of global problems confronting our modern world, this book tackles some of the personal challenges these problems present and directs us to a man and his message for answers; a message that will assist us to live victoriously. This book reassures us that we are not the first to face the possibility of oblivion. Millenia ago, in a small far-off land bordering the eastern Mediterranean, a very similiar situation arose. We have a detailed record of one man's struggle with his own mortality in the face of impending genocide that was about to engulf his own nation. His name was Habakkuk. His is an enduring message that can help in our own journey, as we continue Traveling Through Troubled Times. Stuart Robinson brings not only his scholarship to this excellent study, but is clearly informed by his unique experience as someone who has seen the pride and selfishness of the West through the eyes of someone living intimately with some of the world's poorest people.
- Publisher


Meet the Author
Stuart Robinson
Dr Stuart Robinson is the Founding Pastor of Australia's largest Baptist Church. Before that he worked for fourteen years in South Asia where he pioneered church planting among Muslims. He travels extensively as a speaker at Seminars and Conferences. He is the author of ten books including best selling titles, Mosques & Miracles, Defying Death, The Prayer of Obedience and The Challenge of Islam. He graduated from four tertiary institutions. Stuart was born in Brisbane and is married to Margaret. They have three married children.