Trouble in Store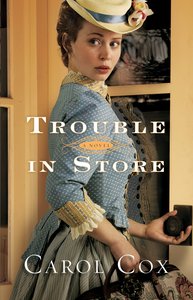 Historical Suspense and Romance
in the Wild West

Fired from her most recent governess position, Melanie Ross must embrace her last resort: the Arizona mercantile she inherited from her cousin. But Caleb Nelson is positive he inherited the mercantile, and he's not about to let some obstinate woman with newfangled ideas mess up all he's worked for. He's determined to get Melanie married off as soon as possible, and luckily there are plenty of single men in town quite interested in taking her off his hands.
The problem is, Caleb soon realizes he doesn't want her to marry up with any of them. He's drawn to Melanie more every day, and he has to admit some of her ideas for the store unexpectedly offer positive results.

But someone doesn't want the store to succeed, and what used to be just threatening words has escalated into deliberate destruction and lurkers in the night. When a body shows up on the mercantile steps--and the man obviously didn't die from natural causes--things really get dangerous. Can Melanie and Caleb's business--and romance--survive the trouble that's about to come their way?

- Publisher
You May Also Be Interested In
About "Trouble in Store"
Historical Suspense and Romance
in the Wild West

Fired from her most recent governess position, Melanie Ross must embrace her last resort: the Arizona mercantile she inherited from her cousin. But Caleb Nelson is positive he inherited the mercantile, and he's not about to let some obstinate woman with newfangled ideas mess up all he's worked for. He's determined to get Melanie married off as soon as possible, and luckily there are plenty of single men in town quite interested in taking her off his hands.
The problem is, Caleb soon realizes he doesn't want her to marry up with any of them. He's drawn to Melanie more every day, and he has to admit some of her ideas for the store unexpectedly offer positive results.

But someone doesn't want the store to succeed, and what used to be just threatening words has escalated into deliberate destruction and lurkers in the night. When a body shows up on the mercantile steps--and the man obviously didn't die from natural causes--things really get dangerous. Can Melanie and Caleb's business--and romance--survive the trouble that's about to come their way?
- Publisher


Meet the Author
Carol Cox
CAROL COX is an award winning author, a native of Arizona, whose time is devoted to being a pastor's wife, mom to her grown son, and a home-school teacher to her daughter, church pianist, and youth worker. She loves anything that she can do with her family: reading, travelling, historical studies, and outdoor excursions. She is also open to new pursuits on her own, including genealogy research, crafts, and the local historical society. She plans to write more historical inspirational romance, in which her goals are to encourage Christian readers with entertaining and uplifting stories and to pique the interests of non-Christians who might read her novels. Some of her works include Spring's Memory, Land Of Promise, Arizona Brides, Ticket To Tomorrow and To Catch A Thief.
Customer Reviews For "Trouble in Store"
Write Your Own Review
Western Romantic Suspence
By Jacqueline,

Oct 01 2016
This was a fun book to read. It has all the people to make an interesting and entertaining story: the girl, the guy, the other guy, a rambunctious child, a delightful old lady and any number of people who could be the murderer. And lots of chemistry. It keeps you engaged right to the last page.
---
An All -Round Good Read
By Margot,

Mar 12 2014
Although this historical romance novel took a while to get going, it was thoroughly captivating for the second half, with a murder mystery to solve as well as a romance to develop. Melanie Ross inherits half a mercantile in the rugged frontier of Arizona, from her cousin George. Caleb Nelson inherits the other half from his Uncle Alvin. Only trouble is, they don't get on! They are fun to watch as animosity, competition, jealousy and suspicion turn to love, among a cast of sometimes strange, sometimes comical members of the Cedar Ridge Community. I would have liked to have seen a little more faith development in the main characters, but I still enjoyed reading this book, which I will recommend to others.
---
Easy-read Christian Historical
By Iola,

Jun 28 2013
When she loses her job as a governess, Melanie Ross heads to Cedar Ridge in the Arizona Territory to claim half of her cousin's store, as promised by his partner, Alvin Nelson. But when she arrives, Alvin is dead and his nephew, Caleb, has no desire for a business partner, especially not one of the female variety. When Melanie discovers a dead body on the back step, and they begin to suspect there might be more trouble in store...  As well as the murder there have been some mysterious notes, suggesting someone doesn't want Caleb in town. Trouble in Store is a good mix of mystery, humour and romance. The characters were likeable, and while the story focused more on Melanie and Caleb's disagreements about the store and the mystery, there was still a nice romantic sub-plot. The story is clearly Christian, but not preachy.. Lighthearted with good morals, and something I'm happy to pass on to my daughter. Recommended. 

Thanks to Bethany House and NetGalley for providing a free ebook for review. 
{{review.title}}
By {{review.author.name}},

{{review.reviewCreatedDate | date:'MMM dd yyyy'}}

{{reviewdescription}}
{{review.text}}
---