Truck Stop Angel (#08 in Tabor Heights Year Two Series)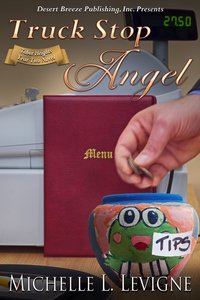 Hope and Seth's high school argument sent her into Ricky's arms. Nine years later, she is free of her forced marriage, but not the stigma. When Ricky flees the law, Seth returns to her life. Surrounded by criticism and threats, Hope finds shelter with her foster-family and their new diner. With their help, she puts her life back together, and her children begin to heal. Seth wants to be there for Hope, but their past mistakes make them both hesitant to love again. What can he do to defeat his rival when Hope doesn't seem to realize how feels, after all he has done to be her knight in shining armor?

- Publisher
You May Also Be Interested In
About "Truck Stop Angel (#08 in Tabor Heights Year Two Series)"
Hope and Seth's high school argument sent her into Ricky's arms. Nine years later, she is free of her forced marriage, but not the stigma. When Ricky flees the law, Seth returns to her life. Surrounded by criticism and threats, Hope finds shelter with her foster-family and their new diner. With their help, she puts her life back together, and her children begin to heal. Seth wants to be there for Hope, but their past mistakes make them both hesitant to love again. What can he do to defeat his rival when Hope doesn't seem to realize how feels, after all he has done to be her knight in shining armor?
- Publisher


Meet the Author
Michelle Levigne
Michelle has been a book addict since her Dr. Seuss days, graduating to The Happy Hollisters (juvenile detectives) and The Black Stallion at an early age. In junior high, she became a "pusher" – creating her own stories from her favorite books and TV shows, "rewriting" the unsatisfying ones. Her academic background includes a BA in theater/English from Northwestern College and an MA in communications (film/writing) from Regent University. She came "this close" to selling a script to MacGyver during the last season, and is still trying to take Hollywood by storm – though sometimes it's more like a drizzle. Writing in multiple genres, she has been an EPIC Award finalist nearly every year since 2004, winning in 2006 with Lorien. A native of Northeast Ohio, she is a freelance editor by day, writing novels, short stories and scripts by night.
Other Titles In The "Tabor Heights Year Two Series" Series
$4.17

Nett


Available for immediate download.